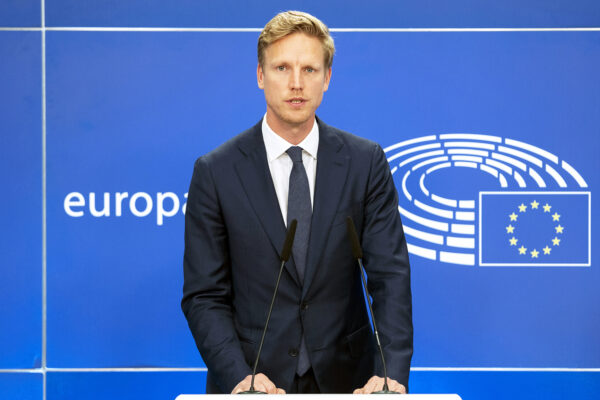 German liberals have thrown a wrench in the EU's plan to phase out diesel and petrol cars, arguing a 2035 deadline is too strict.
"It is contradictory when the EU Commission calls for high climate protection targets on the one hand, but on the other hand makes it more difficult to achieve these targets through overambitious regulation," transport minister Volker Wissing told the Bundestag on Friday.
A vote of EU transport ministers planned for Tuesday has been postponed. European Commission president Ursula von der Leyen is attending a German cabinet meeting on Sunday to discuss their about-face.
Wissing's change of heart is a stab in the back of fellow liberal Jan Huitema, who steered the car legislation through the European Parliament. Wissing's FDP and Huitema's VVD are the fourth- and fifth-largest parties in the Renew group.
Germany already got two concessions
The transport council's approval was supposed to be a formality after parliamentary rapporteur Huitema got all three EU institutions on the same page in October. (Disclosure: I am a member of Huitema's VVD.)
New cars and vans would not be allowed to emit greenhouse gasses starting in 2035. The European Commission had proposed 2030 and the European Parliament wanted to ban the combustion engine outright. To get car-producing member states like Germany, Italy and Poland on board, the deadline was pushed back five years, trucks were exempt and combustion engines would still be allowed to run on synthetic, but not fossil, fuels.
A clause was even added to the final text to confirm a role for e-fuels.
340 out of 640 parliamentarians supported Huitema's compromise, as did the Commission.
Yet e-fuels are the hill the Free Democrats (FDP) have chosen to die on. Wissing will not sign off until the European Commission has made a concrete proposal for their future.
Journalists believe FDP is posturing
"We need e-fuels," Wissing told ARD television, "because there is no alternative to operating our existing fleet in a climate-neutral manner."
His party leader, Christian Lindner, agreed: "This technology option must be preserved."
But the European Commission and the European Parliament have already said it will be.
The consensus in German media is that the FDP is posturing in the wake of poor election results.
The Kölner Stadt-Anzeiger accuses the liberals of "clientelism" on behalf of car owners. Süddeutsche Zeitung believes they have deliberately thrown their ruling coalition with the Greens and Social Democrats into "chaos". A columnist for Die Tageszeitung thinks the FDP is turning climate policy into a "culture war".
The Christian Democrats, who lost the 2021 federal election, have made gains in state elections at the expense of the FDP, who failed to clear the 5-percent electoral threshold in Berlin and Lower Saxony. In North Rhine-Westphalia, they managed 6 percent, down from 13. The conservatives oppose a deadline for phasing out diesel and petrol cars altogether.
Few automakers are on the FDP's side
The FDP may have been right to argue it is illiberal to ban one technology (combustion engines) and favor another (electric cars). Better to set environmental standards and let companies and consumers decide which technology — electric, hydrogen, synthetic fuels — they prefer.
But this argument, to let the market decide, becomes less credible when there is only one German automaker investing in synthetic fuels: Porsche. The same company whose CEO, Oliver Blume, was quoted last year as boasting he convinced FDP leader Lindner to include synthetic fuels in his coalition agreement with the Greens and Social Democrats. (Blume later said he exaggerated.)
Other companies are switching to electric cars. Volkswagen plans to sell only electric vehicles from 2033; Stellantis, owner of Citroën, Fiat and Peugeot, from 2030. Ford Europe and Sweden's Volvo have endorsed the 2035 phaseout. Tesla opened its first European electric-car factory outside Berlin a year ago.
Of the German car manufacturers, only BMW is against the deadline, arguing it will put car ownership out of reach for the lowest incomes.
Dutch liberals have gone green
It's not like banning diesel and petrol cars was a priority for Huitema's voters, but his VVD decided some years ago it could no longer cede climate policy to the left. In addition to electric cars, it has come around to road pricing and reducing the speed limit on Dutch highways. Car magazine AutoReview complains the VVD is carrying out the Green party's manifesto.
Center-right voters don't seem to mind. The VVD won the general election in 2021 with 22 percent support, up 1 point from four years earlier. Polls for the provincial elections in two weeks also predict gains.
Germany's Free Democrats have not changed. "You still define freedom as the freedom to drive a car," Petra Pinzler, a journalist for Die Zeit, told FDP group leader Christian Dürr on ZDF television. She argued the party's foot-dragging on climate policy — not its coalition with the left — is the reason liberal voters are walking away.
Cars are cleaner, but still a major source of pollution
Passenger cars cause 12 percent of European greenhouse gas emissions, trucks and vans another 8 to 9 percent.
The EU's goal is to cut emissions, including from cars, by 55 percent this decade. Trucks and vans would need to cut emissions in half. By 2050, the bloc wants to be carbon-neutral. Where fossil fuels cannot be replaced, their emissions should captured or offset.
Average emissions per vehicle have fallen 37 percent in this century, but total emissions are up 6 percent. Cars have become cleaner, but Europeans have also bought more cars. There are now 250 million in the bloc, one for every two residents. 2 million are electric.
Of the 9 million cars sold in the EU last year, 12 percent were electric, according to the European Automobile Manufacturers' Association. That is up from 2 percent as recently as 2019.
Germany has allies
820,000 Germans work in the car industry, which contributes 5 percent to GDP. 15 percent of German exports are cars and automobile parts.
Italy makes even more of its money from cars: 8.5 percent. Fiat is by far the largest manufacturer, but luxury brands like Ferrari, Lamborghini and Maserati contribute relatively more to advertising and design.
They would be exempt from the 2030, but not the 2035, target under the deal Huitema negotiated with EU institutions in October. Manufacturers of fewer than 10,000 cars per year won't need to meet the 55-percent reduction target, but they do need to reach net-zero emissions by 2035.
Fiat is also one of the largest foreign car producers in Poland. Germany's Audi, BMW, Mercedes-Benz and Volkswagen have plants in Hungary. The two Central European countries, like Italy governed by the far right, are wary of the fossil-fuel phaseout as well.