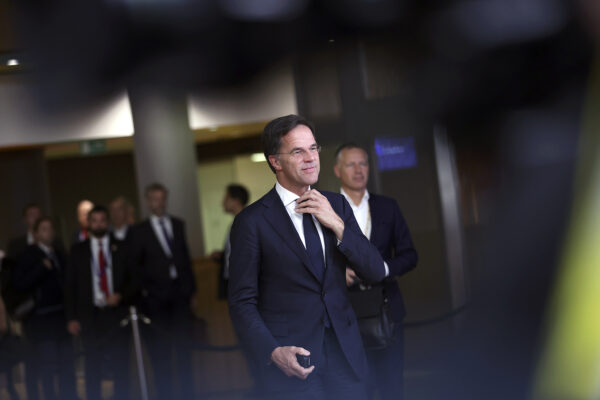 Prime Minister Mark Rutte's liberal VVD is projected to gain seats in the Netherlands' upper house elections in May. His Christian democratic coalition partners would lose seats to a new agrarian party.
An Ipsos survey for EenVandaag, a nightly news program, shows Rutte's center-right party gaining three seats in the 75-seat chamber, going from twelve to fifteen.
The left-liberal D66, the second party in Rutte's government, would remain at seven seats.
The other two ruling parties are down: the Christian Democratic Appeal would fall from nine to five seats, the Christian Union from four to two.
Seventeen parties and one independent senator are projected to win seats altogether.
Left-wing union appears unsuccessful
The coalition parties have a majority in the lower house but not the Senate, where they usually rely on the Labor Party and Greens to pass legislation.
The two left-wing parties are running on a joint list. Former party leaders argue for a permanent merger.
Voters don't appear to share their enthusiasm. The combined Labor-Green list would win eleven seats: down from fourteen, but still enough to give the government a majority.
Farmers' protests benefit far right
Geert Wilders' Freedom Party would go from five to nine seats. The new Farmer-Citizen Movement (BBB) would win eight, the conservative JA21 three.
The parties have led the opposition to Rutte's farm policy. Lower limits for ammonia pollution could force one in three Dutch livestock farmers out of business.
Dutch ammonia emissions are the highest per hectare in the EU and deadly to local plant- and wildlife. Farmers have protested the proposed cuts by blocking motorways and food distribution centers.
The Christian Democrats were long seen as the party of rural interests, but it looks like they will have to cede that title to BBB. Indeed, many BBB candidates are former Christian Democrats.
Pro-Putin party has become toxic
Other right-wing gains come at the expense of Forum for Democracy. Revelations of antisemitism and the party's continued support for Vladimir Putin have made it toxic to all but 2 percent of voters.
Forum won twelve seats in the last election. Eleven of its senators later left the party. Seven joined JA21.
Ipsos gives the combined populist right 22 seats in the new Senate, up from nineteen.
Provincial deputies elect Senate
Senators are indirectly elected by provincial deputies, who are elected by voters in March. (I am a candidate for Rutte's VVD in North Holland.)
An I&O survey for the provincial elections puts the VVD in first place with 14 percent support nationwide, unchanged from 2019. The BBB would win over 9 percent.