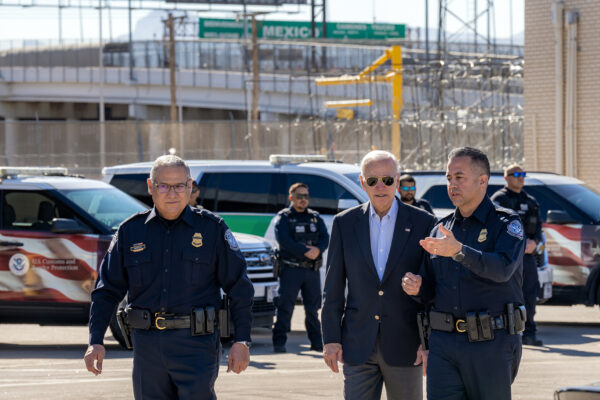 Immigrants who enter the United States illegally may soon be disqualified from applying for asylum.
President Joe Biden proposed the change after a record illegal border crossings were counted in the fiscal year that ended in September: 2.4 million, up from 1.7 million a year earlier.
By refusing asylum to some immigrants altogether, Biden would go further than his Republican predecessor. Donald Trump returned applicants to Mexico, where they had to wait for months or even years while their asylum request was reviewed.
Biden would also speed up deportations of illegal aliens who have not applied for asylum.
Unlike Trump, the Democrat is at the same time making it easier for specific groups of refugees to come to America.
Polls compel Biden to act
Illegal immigration undermines public support for legal immigration.
Half of Americans compare the record border crossings to an "invasion". According to Gallup, only 28 percent are satisfied with the current level of immigration; the lowest in a decade. 63 percent are dissatisfied. (Although 8 percent are dissatisfied because they think immigration is too low.)
59 percent of voters told CBS News last year they feared Biden's Democratic Party would "open the US-Mexico border."
Why border crossings are up
That was never an accurate perception, but Biden repealed the most restrictive of Trump's immigration policies:
Requiring asylum seekers to "remain in Mexico" while their application was pending.
Separating migrant children from their parents.
Banning nationals of various majority-Muslim countries, Burma, Eritrea, North Korea and Tanzania from traveling to the United States.
Biden also upgraded the Deferred Action for Childhood Arrivals program, written as a policy memorandum under Barack Obama to allow migrants who were brought to the United States illegally as children to remain in the country, to a regulation.
And he extended "Temporary Protected Status" to nationals of Afghanistan, Burma, Cameroon, Ethiopia, Ukraine and Venezuela, allowing some 712,000 migrants to remain in the United States without legal residence or a visa.
Even proponents of liberal immigration reform, like Kathleen Bush-Joseph and Muzaffar Chishti of the Migration Policy Institute, recognize that the increase in illegal border crossings "may have been partly prompted by the administration's actions elsewhere to shield immigrants from deportation and provide humanitarian protections, as migrants expected a warm welcome in the United States after four years of Trump."
In addition to those "pull" factors, there are "push" factors in South America. The head of Customs and Border Protection at the time, Chris Magnus, last year blamed the "failing communist regimes" of Cuba, Nicaragua and Venezuela for causing hundreds of thousands of their citizens to flee.
Whereas previous emigration waves were caused by violence in the "Northern Triangle" of El Salvador, Guatemala and Honduras, more recently an estimated one in three migrants entering the United States illegally have been Cubans, Nicaraguans and Venezuelans fleeing economic deprivation.
Deportations are down
Biden has instructed Immigration and Customs Enforcement (ICE) to prioritize deporting recent border crossers and migrants who might pose a threat to public safety. That is a change from under Trump, when agents searched the whole country for illegal aliens.
Total deportations fell to 72,100 in the fiscal year 2022, down from an average of 233,000 per year under Trump and 344,000 per year under Obama. 28,200 illegal aliens were removed from the interior of the United States, as opposed to the border region, compared to an average of 81,000 annual interior removals under Trump and some 155,000 per year under Obama.
11 million people are believed to live in the United States illegally.
Immigration courts are overwhelmed
ICE can only remove people on the order of an immigration judge. Trump appointed some 190 immigration judges. (One in four didn't have experience in immigration law.) He didn't expand the immigration courts. The number of pending deportation cases jumped from 542,000 at the start of his tenure to 1.3 million when he left.
The backlog has since surpassed 2 million. More than 800,000 cases involve asylum claims.
Biden has hired an additional 100 immigration judges, but there are still just 600 for the whole country. It takes four years on average for an asylum case to be decided.
So far this year, judges have ordered 39 percent of applicants — over 70,000 — to leave the country. Trump-appointed judges ordered deportation in 69 percent of cases.
Asylum law gives perverse incentive
Asylum law gives refugees a perverse incentive to enter the United States illegally before applying. Noah Smith, a pro-immigration commentator, explains:
If you show up at the border requesting asylum, you'll either have to wait a long time outside the US for your request to be heard or you'll be denied entry outright. But if you manage to cross the border illegally and then turn yourself in to the Border Patrol, you're on US soil, so you're legally entitled to request asylum.
Applicants are allowed to live and (after half a year) work in America while their asylum case is pending. Those with a weak claim may fail to show up to a hearing years later. By then, most will have fallen off the authorities' radar and they can stay in the country illegally.
Where their risk of being found and deported by ICE is much lower under Biden than it was under Trump.
What Biden has done so far
Biden took steps in January to solve the problems:
Allow 30,000 migrants from Cuba, Haiti, Nicaragua and Venezuela to come to the United States every month if they have an American sponsor and can pass a background check.
Such a program, exempting refugees from regular asylum procedures on humanitarian grounds, already existed for Ukrainians and Venezuelans. The Ukrainian program remains separate. The Venezuelan program was merged with the three other nationalities.
Expel migrants from the same countries who entered the United States illegally.
Administration officials said Mexico would take back 30,000 migrants per month. It previously only accepted return migrants from El Salvador, Guatemala, Honduras and Venezuela.
The arrangement is similar to the one EU countries made with Turkey in 2016. For every illegal migrant Turkey agreed to take back from Greece, the EU would fly in a Syrian refugee from Turkey. That deal fell apart during the COVID-19 pandemic.
According to The Washington Post, 30,000 monthly slots would cover about 40 percent of recent Cuban, Haitian and Nicaraguan arrivals. But the administration argues there will be a deterrent effect: the same rules for Venezuelans led to a 70 percent reduction in illegal border crossings.
January's figures appear to prove them right: 76 percent fewer migrants showed up at the border from Cuba, Haiti, Nicaragua and Venezuela, 22,100 compared to 91,300 in December.
Require other nationals to schedule appointments at ports of entry via a mobile app to apply for status.
Pilot a program allowing citizens and green-card holders to privately sponsor refugees.
The program, Welcome Corps, aims to find 10,000 Americans to sponsor 5,000 refugees.
What Biden is proposing
The president's latest proposals go further:
Disqualify migrants from asylum if they crossed the border illegally and failed to apply for asylum in a third country, like Mexico.
This is somewhat similar to the EU system, where asylum seekers are required to apply for status in the first member state they arrive in.
Deport migrants without a court hearing if they do not seek asylum or fail to establish credible fear of persecution.
This should alleviate pressure on the immigration courts, speeding up procedures for applicants who did flee for their lives.
The changes are due to go into effect in May.