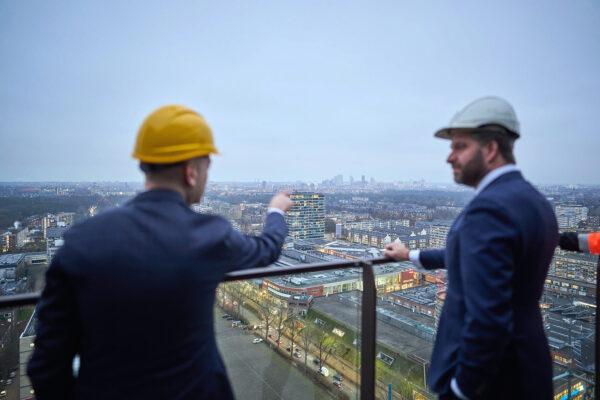 The Dutch government wants to make it easier to build new homes — after it made it harder.
Housing minister Hugo de Jonge, a Christian Democrat in a coalition of four parties that includes my own, told parliament he wants to defeat NIMBYism with four proposals:
We owe it to all those looking for a house to do whatever we can to speed up home construction.
I wish he had thought of that a year ago, when he started the job.
What De Jonge wants
Give municipalities €90 million to hire more staff.
When I spoke to builders and developers for a story in Wynia's Week about the Netherlands' housing shortage, which has reached 400,000, lack of capacity in local government was one of the explanations they gave me. Small towns and rural municipalities don't have enough civil servants to process building applications in time, and the people they have sometimes lack experience and expertise to handle large developments.
Give aspiring homeowners a voice in public hearings.
Currently only existing residents are heard. Especially in wealthy towns, homeowners tend to resist developments for fear of their properties losing value.
Allow only one legal challenge per development.
On average, it takes two years to get a building permit and another 15 months to build a home. But according to De Jonge, the whole process can take up to ten years for larger developments.
Much of that time goes into planning and permitting, but a third reason for the delay is that opponents can challenge a decision first to their local government, then to a district judge and then to the national court. De Jonge would cut out district judges and require opponents to appeal directly to the national court.
Standardize permitting requirements for new developments.
That should also speed up construction of prefabricated homes.
Permits are not on target
De Jonge's ambition is to build 100,000 homes per year to keep up with population growth (which consists almost entirely of immigration).
50,000 building permits were issued in the first three quarters of 2022, down from 75,000 in the whole of 2021.
Partly due to circumstances outside De Jonge's control:
High energy prices, which have pushed up building costs.
A shortage of workers.
The Netherlands' still-unresolved farm crisis. As long as nitrogen emissions in farming aren't reduced, judges won't allow construction nearby, because nitrogen pollution is lethal to certain plant- and wildlife.
But De Jonge's own policies haven't helped.
Sustainability requirements add delay
The previous government — formed by the same center-right parties that are in power now — decided 1.5 of the Netherlands' 8 million homes had to be taken off natural gas by 2030. That has diverted construction workers from building new homes to renovating existing ones. (In order to replace gas pipes with district heating and swap gas- for electric stoves.)
De Jonge, who switched from the health to the housing ministry in 2022, banned gas-powered boilers in favor of electric heat pumps.
He also mandated that, from 2030, landlords won't be allowed to rent out poorly insulated homes.
The city of Amsterdam goes two steps further, requiring all new buildings to come with triple glazed windows and, where feasible, solar panels on the roof.
All well-intended, argues Patricia Ghering of the developer Mosaic World in Trouw (electrification and insulation reduce fossil-fuel use and lower energy bills), "but the reality is that everything is coming to a standstill due to bureaucratic red tape." Projects that had been in development for years needed to start the process of permitting and public hearings all over again.
Affordable, but fewer, homes
In addition to stricter sustainability requirements, De Jonge has tightened rules for affordability.
One in three new homes need to be rent-controlled. Amsterdam, again, goes further by requiring 40 percent of new apartments to be rent-controlled.
De Jonge has limited rent increases to the average annual salary increase plus 1 percent.
He is raising the ceiling for rent control from €763 to €1,000 per month, bringing some 430,000 apartments into regulation. CBRE, a real-estate services firm, projects that 50,000 to 100,000 apartments will be sold, and taken off the rental market, before the change goes into effect.
Higher taxes discourage investment
Finally, the government is raising property tax and real-estate transfer taxes for owners of multiple homes from 2 to 10 percent.
In 2022, local governments got the power to ban investors from buying properties altogether. The city of The Hague put a ban in place for homes worth less than €355,000.
The goal is to avoid speculation, which can drive up prices for residents, but De Jonge's policies have also made it less lucrative to build and buy rental properties. Investment fell 45 percent last year, causing even fewer homes to be built this year.