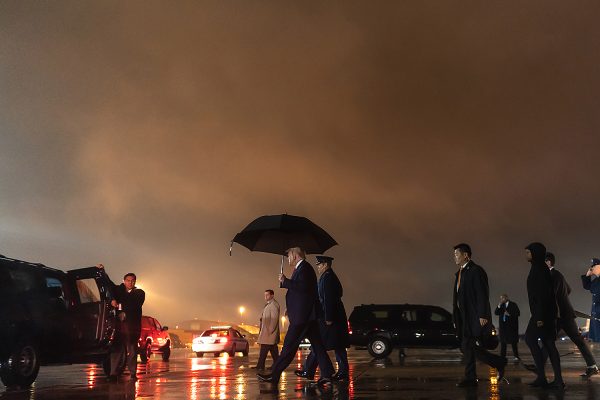 Donald Trump's presidency ends on Wednesday. He leaves behind an America that is more in debt, more isolated in the world, less generous and less safe.
400,000 Americans are dead. The United States has 4 percent of the world's population but suffered one-fifth of its known COVID-19 fatalities. Trump consistently downplayed the pandemic, even after contracting coronavirus himself; disparaged medical advice, held mask-optional events and balked at coordinating a federal response to the crisis.
11 million Americans are officially unemployed, but that only counts those who have actively looked for work in the last month. The real unemployment figure could be twice as high.
Trump signed one major piece of legislation, the 2017 tax law, which cut taxes for the wealthy but did little for poor and middle-income Americans.
The national debt grew by $7 trillion, or 37 percent, while Trump was president.
Americans' trust in each other and government declined.
Trump withdrew the United States from thirteen international agreements and organizations, including the Paris climate accord, the Iran nuclear deal, the Trans Pacific Partnership and the World Health Organization.
Iran resumed its nuclear weapons program.
Confidence in American leadership plummeted. Allies in Asia and Europe had more faith in Vladimir Putin and Xi Jinping than they did in Trump. One in two Europeans believe Trump made the world a worse place.
One in nine senior Foreign Service officers were fired, pushed out or chose to leave the State Department during the first year of Trump's presidency. American diplomats were thoroughly demoralized by his foreign policy, which failed on nearly all fronts.
The number of refugees admitted into the United States fell from 85,000 in the last year of Barack Obama's presidency to under 12,000 in 2020.
545 migrant children detained on the southern border still haven't been reunited with their parents, a consequence of Trump's cruel family-separation policy.
Trump denied federal aid to Puerto Rico after the 2017 Hurricane Maria.
Trump reversed eighty environmental rules and regulations.
Trump's presidency saw a surge in white supremacist violence, culminating in the January 6 attack on the United States Capitol.
Trump appointed more than 200 federal judges and three Supreme Court justices. A quarter were female and only 4 percent were black. More were rated "not qualified" by the American Bar Association than under any other president in recent history.
Trump fired Sally Yates, the acting attorney general; Preet Bharara, the US attorney in Manhattan; and James Comey, the director of the FBI, when they were investigating him or his campaign.
Trump fired the inspectors general (internal watchdogs) of the intelligence community and the Departments of Defense, Health and Human Services, Transportation, and State.
Trump leaned on career prosecutors to lower sentencing recommendations for his allies and pardoned friends who were convicted of crimes.
Citizens for Responsibility and Ethics, a nonprofit, found 3,400 instances of corruption or conflicts of interest involving the president and his family.