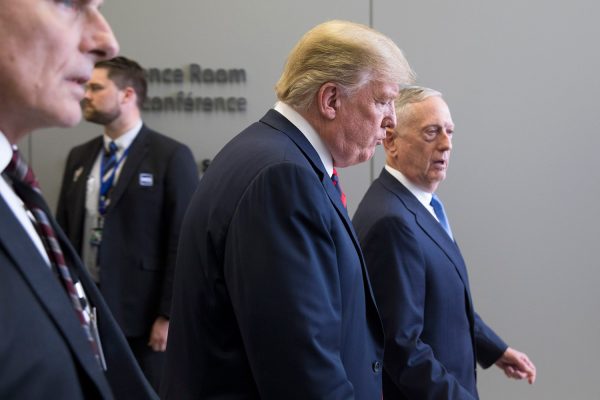 I haven't written much about Donald Trump this year, because what's the point? As I reported in December, the scandals keep piling on — from corruption to illegal payoffs to making apologies for white supremacists to Russia — but half of America either doesn't believe it or doesn't care.
Trump campaign officials have been arrested, indicted and convicted; migrants have been treated so abysmally at the southern border that seven children have died in detention; the president launched a disastrous trade war with China and threatens to unravel the entire world order that has kept America and its allies safe for seven decades, and still members of Trump's Republican Party would not speak out.
They finally are. The president's behavior has become so erratic in recent weeks that even some of his supporters are disturbed.
What has changed?
It was revealed Trump conditioned military aid to Ukraine on the country opening an investigation into bogus allegations related to his Democratic rival, Joe Biden. It is illegal for an American politician to solicit any kind of support from another country. Moreover, it shows Trump is willing, even as president, to put his own interests before the country's.
Trump's lawyers are arguing the president is essentially above the law in that neither he nor anyone working for him needs to comply with congressional subpoenas issued in the impeachment inquiry that is now underway.
Following a phone call with Turkey's Recep Tayyip Erdoğan, Trump unexpectedly announced the withdrawal of American forces from northern Syria, apparently having consulted no one in his own government about the decision. Many Republicans and national security experts are appalled. They expect Turkey will use the opportunity to take control of the border region and suppress Kurdish militants there, who have done more than anyone to defeat the self-described Islamic State.
In the face of criticism, Trump threatened in a tweet: "If Turkey does anything that I, in my great and unmatched wisdom, consider to be off limits, I will totally destroy and obliterate the economy of Turkey (I've done before!)." Those are not the words of a stable man.
Support for impeachment
When Special Counsel Robert Mueller confirmed that Trump's 2016 campaign had sought support from Russia, and that Russians had interfered in the election in order to help Trump, it didn't raise public support for impeachment.
The revelation that Trump personally, as president, asked Ukraine for the same kind of "favor" has changed minds. Nearly one in two Americans now support impeachment against 43 percent who oppose it.
Including an average of 14 percent of Republicans in recent polls. A survey conducted for ABC News and The Washington Post even put Republican support for an impeachment inquiry at 29 percent.
(A simple majority is required to impeach the president in the House of Representatives. It takes a two-thirds majority in the Senate to convict and remove him.)
It's too soon to say if the dam is breaking, but clearly the ground is shifting beneath Trump's feet.
Lawmakers
Republican lawmakers, who have spent the last three years coming up with excuses for Trump's behavior, are following public opinion.
Even Senate leader Mitch McConnell, who has so far shielded Trump from scrutiny, criticized his decision to pull out of Syria.
(The anti-Trump conservative website The Bulwark is keeping a list of all the prominent Republicans who have.)