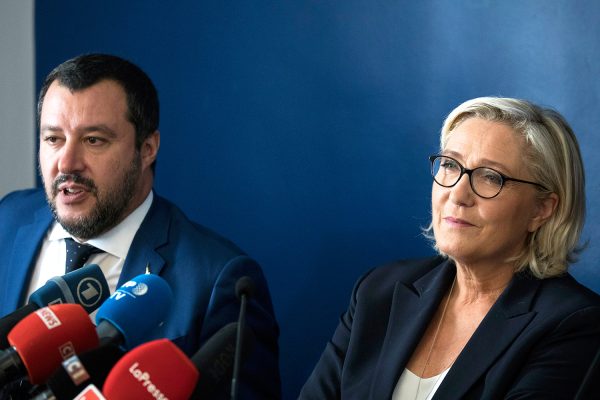 Italy's most popular politician appears to have made a huge mistake.
Matteo Salvini, the country's hardline interior minister, brought down his far-right League's government with the anti-establishment Five Star Movement on Tuesday, hoping to trigger early elections that polls suggest his party would win.
But none of the other parties are willing to play ball.
The enemy of my enemy…
The Five Stars are eying a deal with the center-left Democrats. Together they have narrow majorities in both the Chamber of Deputies and the Senate.
The two have sniped at each other for months, but they have one thing in common: both stand to lose from early elections. Support for the Five Stars has fallen from 32-33 percent in the last election to under 20 percent in recent surveys. The Democrats are around 23 percent, the same they got in 2018 but not enough for a left-wing majority.
Even if the parties can't come to an agreement, President Sergio Mattarella is more likely to appoint a technocratic government than allow early elections that could cause Italy to miss its deadline to file next year's budget.
Italy needs to submit its 2020 spending plan to Brussels for review by mid-October. The European Commission nearly initiated disciplinary action against Italy last year, when it threatened to miss its fiscal targets. The rest of Europe may not be so patient a second time.
Salvini could still emerge stronger in the end, but Italian political analyst Leonardo Carella points out that, in the meantime, the Democrats and Five Stars would be able to:
Nominate Italy's EU commissioner;
Pass next year's budget;
Investigate allegations that Salvini received campaign contributions from Russia; and
Change the electoral law to make it easier for them to win a majority.
Not what Italy needs
Not that a Democrat-Five Star government would give Italy the reforms it needs.
Far from liberalizing labor law, investing in education and job training, simplifying the tax code, stamping out corruption in the judicial system and paying off Italy's gargantuan debt, Ferdinando Giugliano, another political analyst, writes for Bloomberg Opinion that the two parties would probably press for more state aid and higher spending covered by even higher taxes.
Italy already needs to find €20 billion to avoid a planned increase in VAT, so there's little room to increase the deficit to fund new measures.
Then again, neither would Salvini's proposed tax cuts and tax amnesty, resistance to pension reform, anti-immigrant policy and flirtation with leaving the euro do Italy any good.