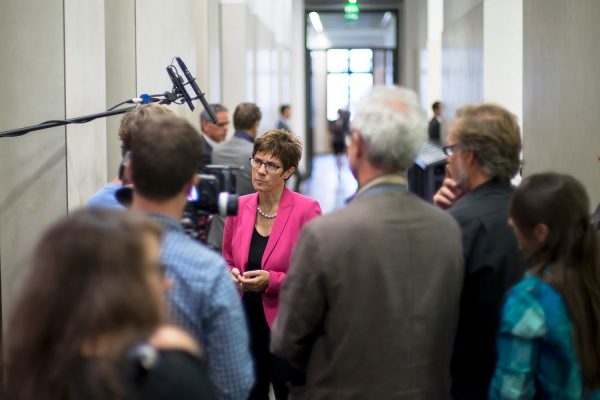 Annegret Kramp-Karrenbauer, the woman Angela Merkel is grooming to be her successor, was sworn in as Germany's defense minister last week, replacing Ursula von der Leyen, who was elected president of the European Commission.
The appointment came as a surprise, for two reasons:
Kramp-Karrenbauer, who was elected head of the ruling Christian Democratic Union in December, has claimed she had no interest in a cabinet position.
The defense portfolio is considered a poisoned chalice in Berlin.
Poisoned chalice
Von der Leyen was once thought of as a potential Merkel successor. The problems she had running the Defense Ministry caused her popularity to wane.
Her predecessor, Thomas de Maizière, suffered a similar reversal of fortunes.
The German army is chronically underequipped and understaffed. Attempts to reform it have been slow, and it has recently been dogged by scandals related to its procurement process.
Improving relations between the officers and their civilian leaders, which suffered under Von der Leyen, is another crucial task.
So is setting the defense budget to the equal satisfaction of a pacifist German society and the country's NATO allies.
Why gamble Kramp-Karrenbauer's career on it?
Another opportunity
Kramp-Karrenbauer's start as CDU chief was far from perfect. The party's poor showing in the European elections in May and a number of controversial comments — the most recent being a call to curb free speech after someone criticized the CDU on YouTube — have all thrown doubt of Kramp-Karrenbauer's prospects. There have been reports in the German media of a falling out with Merkel.
Kramp-Karrenbauer desperately needs another opportunity to prove herself. Despite the baggage and complexities that come with the defense portfolio, the appointment gives her a platform to bolster her leadership credentials and gain the sort of international experience she now lacks.
Von der Leyen was deeply involved in the decisionmaking process over Afghanistan, Mali and Syria. This allowed her to build a vast international network that eventually strengthened her case for the highest political office in the EU.
Kramp-Karrenbauer has already shown an awareness about the links between Germany's foreign and security policies. During her swearing-in ceremony, she talked about a changing world order and the need for Germany to increase its defense spending.
Low expectations
Overhauling the armed forces is a daunting task, but expectations, after years of mismanagement, are low.
Kramp-Karrenbauer is likely to have a short tenure. Elections are at most two years away and the Social Democrats, the junior partner in the coalition, could pull the plug before then.
This would be to Kramp-Karrenbauer's advantage. She can pin any lack of progress on the shortage of time while even some marginal progress can be magnified to build a successful narrative around her.