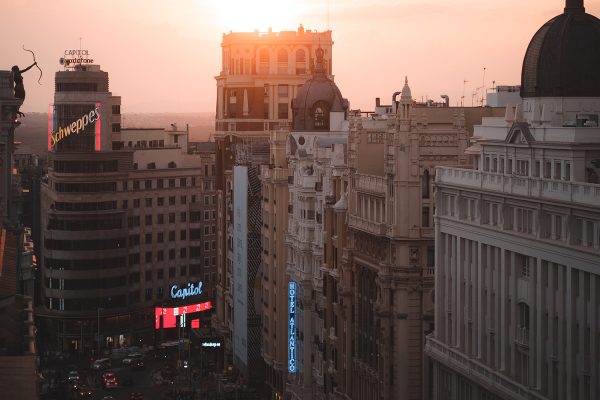 Spain is moving up in Europe.
Italy's decline and Britain's imminent exit from the EU have raised its profile by default.
Miguel Otero-Iglesias and Ignacio Molina, both political scientists, write for Politico that Madrid has an opportunity to shape the EU's agenda for the next five years.
In Pedro Sánchez, Spain has a prime minister who wants to seize that opportunity. His conservative predecessor, Mariano Rajoy, focused more on domestic affairs.
Sánchez' being the most successful social democratic party in Europe gives him additional leverage. Germany's Angela Merkel effectively leads the conservative and still-dominant European People's Party. France's Emmanuel Macron has allied with the liberals. For the sake of geographical as well as political balance, Sánchez is the logical third person at the table.
Indeed, the Spaniard was recently photographed presumably discussing the distribution of EU top jobs with Merkel, Macron and European Council president Donald Tusk. Italy's Giuseppe Conte and Britain's Theresa May looked on from the sidelines.
Vision
The question is, what will Spain do with its newfound influence?
Otero-Iglesias and Molina argue it has an agenda:
[C]ompleting the European monetary union, strengthening Europe's social policies, creating an industrial policy, deepening the single market, developing a green new deal, support for SMEs and rural areas, more investment for high tech, smart management of migration flows, a greater global role for the EU, a bigger EU budget and more fiscal harmonization.
But those are policies. What is the goal?
Shaun Riordan, a former British diplomat and occasional Atlantic Sentinel contributor, writes for our partner website The Corner that Spain needs to articulate its own vision of Europe, and how that Europe will be constructed and relate to the rest of the world.
It is not good enough just to be in favor of more Europe.
Instead of going all-in on the Macron plan, which is deeper eurozone integration and a "social Europe", Spain will sometimes have to side with Berlin if it wants to be taken seriously as the third pole in European politics.
Perhaps now that Spain is set to become a net contributor to the EU budget for the first time, it will learn why the Germans — and the Austrians, and the Dutch, and the Scandinavians — are wary of "ever-closer union". If that is code for more money from rich to poor member states, they're not interested.
Model country
Spain could be a model.
It has benefited tremendously from EU investments, and it has used the money wisely. Its economy has grown by almost half in the last two decades. It has overtaken Italy in terms of GDP per capita. Spain's infrastructure ranks among the top ten in the world. Spaniards' attitudes toward gay rights, gender and immigration are more liberal than most.
The country didn't need a bailout during the euro crisis, but it nevertheless followed EU recommendations to reform labor law and pensions. Sánchez is raising the minimum wage as well as taxes on high incomes and he has proposed to spend more on housing and devolve rent control to regional governments. He is also extending paternity leave.
Squint and you'll spy the contours of a modern social democratic vision that could resonate in other countries.
The right people
A vision needs people to implement it and that is another area where Spain is weak.
Otero-Iglesias and Molina point out that Sánchez has surrounded himself with officials who know the EU well:
Nadia Calviño was a director general in the European Commission; his foreign affairs minister, Josep Borrell, was president of the European Parliament; and Luis Planas, his agriculture minister, was Spain's permanent representative in Brussels. Other top officials are strong pro-Europeans who understand the workings of the EU machine.
But none of them are candidates for the EU's top jobs. (The presidencies of the European Commission, European Council, European Central Bank and European Parliament will all need to be filled in the next few weeks.)
Riordan blames the slowness with which Sánchez is going about forming his second government. By the time he is a full prime minister again (he has been acting prime minister since calling snap elections in April), the EU leadership debates may be over.