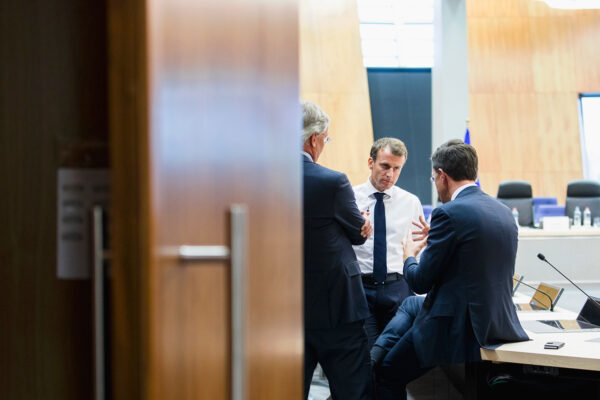 Since the European Commission blocked a landmark merger of the French and German train manufacturers Alstom and Siemens, France and Germany have come out in favor of a "genuine European industrial policy" to compete with China and the United States.
Smaller countries, led by the Netherlands and Poland, are wary.
Franco-German push
The Franco-German proposal (PDF) is built on three pillars:
Massive European investment in innovation.
Relaxing European competition rules to allow state aid and big mergers.
Keeping out unwanted foreign investment and insisting on reciprocity in public procurement.
In addition, French president Emmanuel Macron argues for adopting European preference in public procurement and punishing foreign companies that don't follow EU data-protection and environmental regulations or don't pay their full taxes.
New Hansa
Central and Northern European states have their own ideas (PDF), including:
Completing the single market in services.
Removing barriers to labor mobility, including through mutual recognition of professional qualifications.
Setting global standards in artificial intelligence and the digital economy.
Incentivizing cross-border private risk-sharing and risk diversification.
Improving enforcement of existing market rules.
The Dutch, who are losing an ally in Britain and facing a more assertive opponent in Macron, have formed an informal alliance of free-trading nations, dubbed the New Hanseatic League.
Italy and Spain haven't officially picked sides, but they are more likely to support the Franco-German initiative.
Hypocrisy
One reason the smaller countries don't support a policy for multinationals is that they have few. (The Netherlands being an exception and it just acquired a bigger share in Air France-KLM.)
The French and Germans fear being crowded out by American and Chinese behemoths; their neighbors fear being crowded out by Franco-German monopolies.
Another reason, Politico reports, is that Central Europeans accuse France and Germany of hypocrisy for seeking to restrict the free movement of construction workers and truck drivers. They also feel that France and Italy are granted unfair, lavish protections for their foodstuffs while Hungary, Poland, Romania and Slovakia have all come under criticism for trying to protect farmers and small retailers.
Macron's government is trying to limit the number of days and pickups Eastern European truck drivers can make. It also mandates that truckers be paid the French minimum wage as soon as they cross the border. That law is being challenged for violating the freedom of movement.
France and Italy are the biggest beneficiaries of EU geographical indications, which stipulate, for example, that cheese can only be sold as Parmigiano-Reggiano if it was made in the regions of Parma and Reggio Emilia. When Central Europeans tried to force supermarkets to buy goods locally, and raised taxes on foreign retailers, the European Commission slapped them on the wrists for violating EU competition rules.