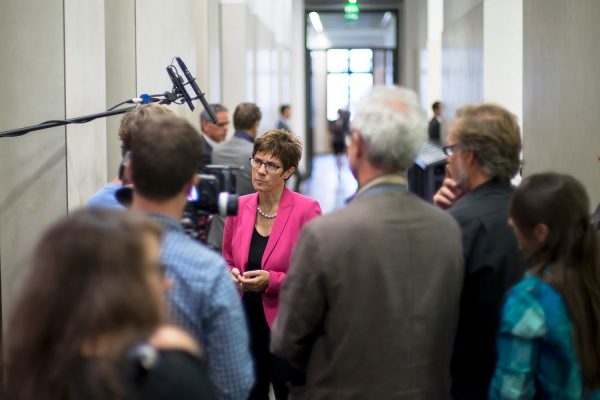 It was supposed to be a subtle shift to the right.
In anointing the socially conservative former prime minister of Saarland, Annegret Kramp-Karrenbauer, as her successor, Angela Merkel signaled to Germany's Christian Democrats that after fourteen years of her consensus politics — which even inspired a verb: merkeln — they would return to their right-wing, Christian roots, but without altogether repudiating the centrist strategy that has made the CDU so successful.
The last few weeks have called that balancing act into question.
Balancing act
It started when Kramp-Karrenbauer, who opposed same-sex marriage when it came to a (successful) vote in 2017, made a joke about gender-neutral bathrooms at a carnival in southern Germany. Left-wing politicians and the gay and lesbian association of the CDU were not amused.
The following week, it was Kramp-Karrenbauer, not Merkel, who authored the Christian Democratic response to French president Emmanuel Macron's latest proposals for EU reform. In an op-ed for Die Welt, she reiterated her party's opposition to the pooling of European debts and the Europeanization of social security systems.
Kramp-Karrenbauer did support Macron's call for a more ambitious EU foreign policy and suggested a compromise to persuade immigration-wary governments in Central Europe to join an EU-wide asylum system: allow countries that contribute more to border defense to take in fewer migrants.
The joke and the op-ed endeared Kramp-Karrenbauer to the Christian right, including the CDU's Bavarian sister party, the Christian Social Union, which never warmed to the eastern-born Merkel.
But it cost her goodwill in the center.
According to the latest Politbarometer from the broadcaster ZDF, 51 percent of Germans now think Kramp-Karrenbauer is unfit to be chancellor. The Social Democrats, with whom the Christian Democrats still govern nationally, and Greens, with whom they might govern next, criticized her for a lack of ambition on Europe.
More Merkel
The expectation among political analysts was that Merkel would step down as chancellor between now and the next election in 2021 in order to ease Kramp-Karrenbauer into the position.
If the poll-conscious Merkel stays true to form, she may decide to take a little while longer.
71 percent of voters told Politbarometer they expect the current left-right coalition to sit out its term. The same share of voters would support Merkel remaining chancellor during that period.
Another poll, published by the broadcaster ARD, found that Merkel is far more popular than the government she leads: whereas only 30 percent of voters are satisfied with the grand coalition, 52 percent are happy with Merkel. Only 37 percent feel the same about Kramp-Karrenbauer.