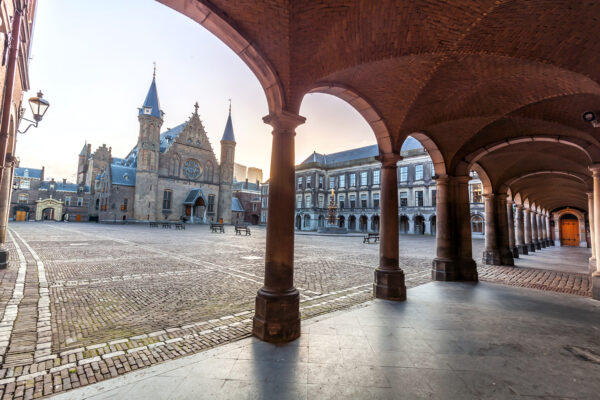 The ruling parties in the Netherlands are down in the polls and likely to lose their majority in provincial and Senate elections next month.
According to a poll of polls published by the national broadcaster NOS, three of the four coalition parties would lose seats. Only the small Christian Union has gained popularity since the last election, in 2017.
Prime Minister Mark Rutte's center-right liberals remain the largest party in the polls. The Greens and far-right Freedom Party compete for second place. Forum for Democracy, another far-right party, is up as well.
Another poll has found that only a third of voters want Rutte's four-party government to continue.
The NOS cautions that next month's elections could pan out differently. Far-right voters are less likely to turn out in regional elections. The middle-of-the-road Christian Democrats, who are currently in government, usually overperform.
Polls
Liberals (center-right): 17 percent (-4)
Christian Democrats (center-right): 8 percent (-4)
Liberal Democrats (center-left): 8 percent (-4)
Christian Union (centrist): 5 percent (+1)
Government total: 38 percent
Freedom Party (far right): 13 percent (unchanged)
Greens (left-wing): 12 percent (+3)
Forum for Democracy (far right): 9 percent (+7)
Labor (center-left): 8 percent (+2)
Socialists (far left): 8 percent (-1)
Others: 12 percent
Opposition total: 62 percent
Trends
The liberals have fallen slowly but steadily in the polls, down from 21 percent in the 2017 election, which was down from 27 percent in 2012. Right-wing voters complain that Rutte has compromised too much in coalitions with centrist and left-wing parties.
The Freedom Party and Forum for Democracy compete for the same voters, but the latter also appeals to right-wing voters who would not support the former. Their combined vote share is up from 15 percent in 2017 to 21 percent.
As has been the case with the Freedom Party in the past, the expectation is that Forum will underperform. There is a segment of right-wing voters who tell pollsters they will support the far right only to switch back to the mainstream once they are in the voting booth.
The Greens have continued to grow and clearly overtaken Labor as the biggest party on the left. Neither Labor nor the far-left Socialists have been able to improve on their disappointing 2017 election results.
Both the Christian Democrats and liberal Democrats are down as voters prefer more outspoken parties.
What's next?
After elections in March, provincial deputies elect a new Senate in May, coinciding with elections for the European Parliament.
If, as expected, the ruling parties lose their majority — and Rutte lands a job in the new European Commission or as president of the European Council — early general elections could be held.