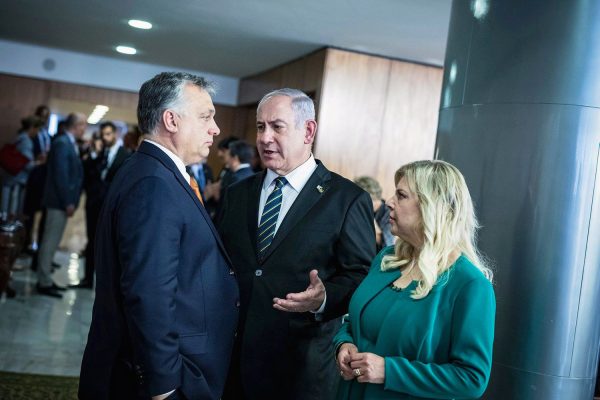 When Israeli prime minister Benjamin Netanyahu called early elections in December, he was probably expecting to shore up his mandate and escape allegations of corruption.
But the decision galvanized his opponents. Three former generals set aside their differences and teamed up with the opposition in a bid to oust Netanyahu, who has been in office since 2009.
It is starting to look like Netanyahu miscalculated.
The resurgence of the left
Netanyahu called the election hoping to stave off two indictments for corruption. (The state prosecutor is expected to make the official announcement today.) Another election victory would lend credence to his claim that the left is trying to achieve through the justice system what it cannot achieve politically: to remove him from office.
But then the political landscape shifted dramatically.
On the left, Labor fell in the polls after it broke the Zionist Union with former foreign minister Tzipi Livni's party. It was then eclipsed by a new anti-Netanyahu pact between Yair Lapid's liberal Yesh Atid ("There is a Future") and the parties of former military chief of staff Benny Gantz and former defense minister Moshe Ya'alon.
Gantz's immediate predecessor at the head of the Israel Defense Forces, Gabi Ashkenazi, also joined the alliance, called Blue and White, as did the chairman of Israel's largest trade union, Avi Nissenkorn.
Blue and White has pulled ahead of Netanyahu's Likud in the polls with the former at 34-36 seats and the latter at 27-31. 61 seats are needed for a majority.
This resurgence of the center-left, which has been out of power for almost two decades, is driven by a shared sense of purpose. Gantz and Lapid have agreed to rotate the prime ministership between them if they win. Livni has retired from politics in order not to "waste" anti-Netanyahu votes.
Fragmentation on the right
The right, by contrast, has fragmented.
Netanyahu has successfully marginalized other center-right leaders, including:
Moshe Kachlon, a former finance minister who was elected in 2015 on a promise to solve the housing crisis but failed to deliver on that promise;
Avigdor Lieberman, who gave Hamas an easy propaganda victory by resigning as defense minister in protest to Netanyahu's handling of the Islamist group's supposedly non-violent protests in Gaza;
Naftali Bennett, the outgoing education minister, and Ayelet Shaked, the outgoing justice minister, who unnecessarily exacerbated the political crisis triggered by Lieberman's resignation by presenting an ultimatum for receiving the defense portfolio only to withdraw it a few days later; and
Orly Levy-Abekasis, who left Lieberman's party in 2016 and was considered a dark horse, but who has now fallen below the electoral threshold in the polls.
This leaves Netanyahu with only a handful of credible allies and in a position where the right cannot afford to lose any votes.
To maximize the right's chances of victory, Netanyahu has gone so far as to broker a pact with the far-right Jewish Power party, which is unabashedly anti-Arab. But this has come at a price.
Israeli diplomacy in the face of elections
Henry Kissinger once remarked that Israel has no foreign policy, only domestic politics. Recent events would seem to prove him right.
First Israel alienated a sympathetic government in Poland by accusing it of antisemitism and previous generations of Poles of collaborating with the Nazis.
Poland's ruling nationalist party is adamant that the country was a victim of Nazism and has tried to outlaw suggestions to the contrary. Israeli rebukes prompted the Poles to pull out of a mutual summit in Israel.
Netanyahu has for years tried to ingratiate himself in the Visegrád Group, which also includes the leaders of the Czech Republic, Hungary and Slovakia, in order to balance against perceived pro-Palestinian attitudes in the EU. While the latest Israeli-Polish tensions may not completely kill Netanyahu's European policy — the countries still need each other diplomatically — it has damaged it. If he is reelected, Netanyahu will have to work hard to smooth things over.
Second — and even more significant from the perspective of Israel's long-term interests — Netanyahu's courting of the far right has caused an uproar in the Jewish diaspora.
Many American Jews were already perturbed by Netanyahu's hardline policy toward the Palestinians and his appeasement of the Orthodox right. The pact with Jewish Power has caused even the American Jewish Committee (AJC) and the American Israel Public Affairs Committee (AIPAC), the two most powerful pro-Israeli lobbying groups in the United States, to distance themselves from him.
So far Netanyahu has not responded to their criticisms, which itself signals his willingness to ignore world opinion in order to prevent a political change that he probably views as more dangerous to Israel's long-term security.
What next?
The combined left, including parties representing Israel's Arab minority, is still short of 61 seats in most polls. But Blue and White is projected to take first place, which would allow Gantz and Lapid a first try at forming a government.
If, as expected, Netanyahu is charged with corruption, that could further depress his support.
What was initially a bold attempt at political survival may very well turn out to be his undoing.