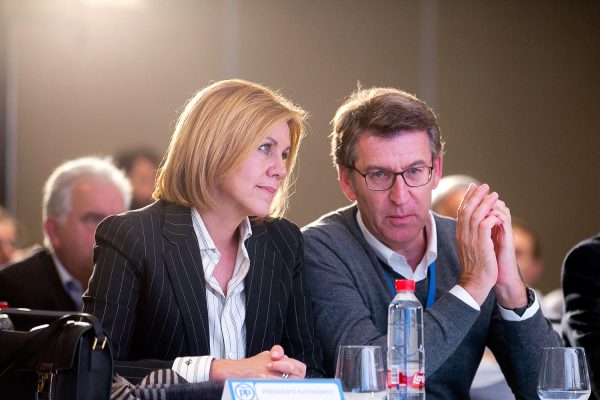 Senior conservatives in Spain have balked at the terms set by the far-right party Vox to support their bid to form a center-right government in Andalusia.
Vox, which won twelve out of 109 seats in the regional legislature in December — enough to give the People's Party and the liberal Citizens a majority — has made various demands, including:
Overturning a law on violence against women in favor of one that is gender-neutral.
Stopping what Vox calls "the massive windfall of subsidies for supremacist feminist associations."
Overturning a law promoting gender equality.
Revoking LGBT protections. Vox argues, "Spain isn't a homophobic country that needs special laws." Indeed, they claim lesbian, gay, bisexual and transgender Andalusians enjoy "unjustified privileges" under the law. So much for homophobia having been eradicated.
Repealing historical memory laws which Vox argues impose, "in a totalitarian manner," a "biased" version of Francoist history.
Returning education, justice and police powers to Madrid.
Cutting funding for public media by 50 percent.
Expelling 52,000 undocumented immigrants.
Protecting Andalusian culture and traditions, including the flamenco and bullfighting, by law.
Appalled
Among the conservatives who are appalled at especially the demand to overturn the law on violence against women are Ana Pastor Julián, the speaker of Congress; Alberto Núñez Feijóo, the president of Galicia; Fernando López Miras, the People's Party leader in Murcia; and Isabel Bonig, the People's Party leader in Valencia.
Juan Vicente Herrera, the president of Castile and León, has even argued that the People's Party should allow the Socialists to remain in power in Andalusia if the alternative is to give in to Vox.
Politicians in Castile and León and La Rioja have taken aim at Vox' demand to centralize education policy in Madrid.
The People's Party leader in Andalusia, Juan Manuel Moreno, has nevertheless acquiesced to many of far right's demands, except on repealing laws on violence against women and LGBT equality and deporting immigrants. He is set to become the region's first conservative president in 36 years.
Proxy battle
The debate over cooperation with Vox is a proxy for a debate about the leadership of Pablo Casado.
Casado defeated the more centrist Soraya Sáenz de Santamaría with 57 to 42 percent at a party congress in July on a platform of restricting abortion rights and immigration, suspending Catalonia's autonomy and using Brexit as an opportunity to take back control of Gibraltar.
The hope of Casado and his supporters was that they could stymie defections to the Citizens on the left and Vox on the right — or at least not lose more supporters than they gained by taking a harder line.
The election in Andalusia did not validate that theory. Although the People's Party remained the largest on the right, its support dropped 6 points, from 27 to 21 percent, while the Citizens gained 9 and doubled their seats and Vox went up 10 points and won seats for the first time.