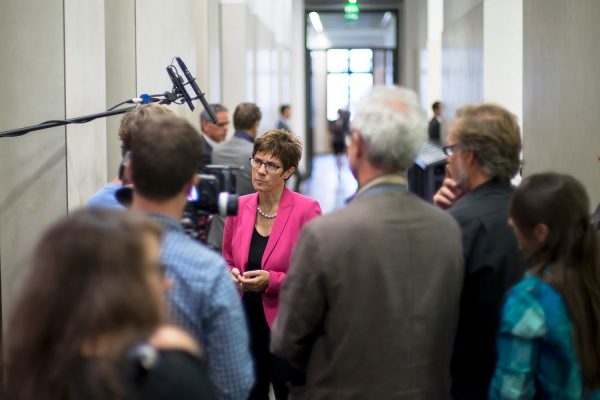 Germany's Christian Democratic Union (CDU) is electing a new leader in December. Angela Merkel ruled out seeking a fourth term after her allies lost state elections in Bavaria and Hesse.
Merkel is staying on as chancellor for now, but her successor at the helm of the CDU will immediately become the favorite to replace her in that position as well.
Here is a summary of the latest news.
The candidates
There are three major candidates:
Annegret Kramp-Karrenbauer, seen by Merkel as the best candidate to defend her legacy. The left wing of the party appreciates her support for the minimum wage (introduced under the current government). The right praises her outspokenness on family values (she opposed marriage equality).
Friedrich Merz, a longtime Merkel rival with support among CDU traditionalists. He is one of Germany's most prominent Atlanticists and considered the most business-friendly candidate.
Jens Spahn, the health minister and a prominent critic of Merkel's decision in 2015-16 to let in more than one million refugees. He is socially liberal.
Latest developments
Polls show Kramp-Karrenbauer is the favorite of CDU voters, but there has been no polling of CDU members who will pick the winner.
Merz, perhaps surprising some of his right-wing supporters, has come out in favor of ambitious EU reforms, including creating an EU-wide tax and a European unemployment insurance system.
The CDU group representing small business has endorsed Merz.
Spahn (38) has accused Merz (63) of being too old and having been out of politics for too long. Merz was forced out as leader of the parliamentary CDU by Merkel in 2002 and gave up his seat in the Bundestag in 2009.
Spahn has also reminded Kramp-Karrenbauer that, had it been up to her, he could not have married his husband.
Spahn has suggested Germany should follow the example of Austria, Hungary and the United States and not sign the United Nations' Global Compact for Migration.
Assessment
Merz appears to have the momentum on his side.
Kramp-Karrenbauer represents continuity when many CDU members want a break from the Merkel era.
But the CDU also has a tendency to fall in line.
Spahn is the underdog and knows it. He won't win, but he may be hoping for a better position in the next CDU-led government.