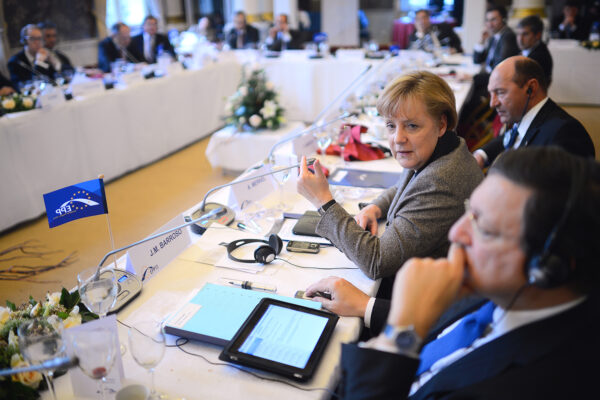 Christian Democratic (CDU) lawmakers in Germany have rebelled against Chancellor Angela Merkel by picking a relatively unknown as their group leader.
Volker Kauder, a close Merkel ally who had led the CDU in the Bundestag for thirteen years, lost in a secret ballot to Ralph Brinkhaus, his deputy. The vote was 112 to 125.
The Frankfurter Allgemeine Zeitung reports that party leaders did not see the revolt coming. Bild calls it a "spectacular defeat" for Merkel. Die Welt argues that her authority has been "badly damaged".
Dissatisfaction
Politico reports that Merkel had personally pleaded with parliamentarians to keep Kauder in his post, calling him crucial to the stability of her coalition government with the Social Democrats.
By selecting Brinkhaus against Merkel's wishes immediately following her remarks, conservative MPs left no doubt that they are dissatisfied with the chancellor's stewardship.
This dissatisfaction stems from several issues:
Merkel's handling of the euro crisis. Conservatives felt she was too generous to Greece and other countries that needed bailouts.
Immigration. In 2015, Merkel opened Germany's borders to some one million refugees from the Middle East. The backlash fueled support for the far-right Alternative.
The phasing out of nuclear power, a push for renewable energy and Merkel's rapprochements with the Greens.
Allowing a free vote on marriage equality.
End of an era
Antje Sirleschtov argues in Der Tagesspiegel that this hasn't been Merkel's only misstep in recent days. She also fumbled the dismissal of spy chief Hans-Georg Maaßen.
When Maaßen questioned the authenticity of a video purporting to show far-right violence in the city of Chemnitz, it caused a stir in Berlin. The Social Democrats demanded his resignation. Merkel — typically — did nothing, hoping that the scandal would blow over. When it didn't, she finally relented, fired Maaßen and apologized for waiting so long.
Merkel is increasingly out of touch with her own party, argues Sirleschtov. It is the beginning of a long farewell to her chancellorship.
Bavarians
Another mark against Merkel is the plight of her Bavarian sister party, the Christian Social Union (CSU). It had supported both Kauder and Maaßen.
The CSU faces state elections in two weeks. It is projected to lose its absolute majority in Munich due to surging support for the Alternative and the Greens.
What's next?
Merkel is not in immediate danger. Brinkhaus has said there is no daylight between him and the chancellor. The CSU makes a lot of noise, but it actually lost popular support when it went against Merkel.
Attention is nevertheless turning to Merkel's succession.
Merkel is believed to favor Annegret Kramp-Karrenbauer, the former prime minister of Saarland whom she elevated to head of the CDU. Both are centrists.
Her rival is Jens Spahn, a rightwinger who has criticized Merkel's immigration policy and currently serves as health minister.