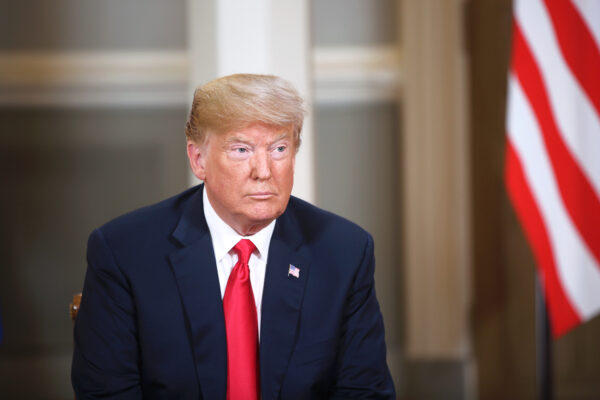 With four of Donald Trump's former campaign officials pleading guilty to various crimes, and one of his former campaign chairmen convicted of financial crimes, can we take a moment to acknowledge that we could see this coming from a mile away?
Paul Manafort's history of working for dictators, including Ukraine's pro-Russian stooge, Viktor Yanukovich, was well known by the time Trump hired him to lead his presidential campaign.
Michael Cohen, Trump's longtime personal attorney, was known to be an unscrupulous "fixer".
Michael Flynn had been fired from the Defense Intelligence Agency for his outlandish beliefs and was known to have lobbied for Russian companies as well as the Turkish government.
Yet Trump hired all three as well as Manafort's deputy, Rick Gates, and useful idiot George Papadopoulos.
Where are they now?
Flynn, Gates and Papadopoulos are cooperating with Special Counsel Robert Mueller's investigation into Russia's interference in the 2016 election.
Cohen has made a deal with federal prosecutors in New York and admitted breaking campaign laws to pay off Trump's mistresses.
Manafort will be on trial again, for failing to register as a foreign agent and obstructing justice, next month.
You were warned
Plenty of commentators, myself included, warned that, based on these hires, Trump's shambolic campaign operation in general and his far from illustrious business career, the self-proclaimed master of the deal would be terrible at managing the presidency.
Here is what I wrote in June 2016:
Trump thinks he's the smartest person in the room, hires only yes men, mocks and fires those who speak against him and seems incapable of delegating. Little wonder he has almost no talent to draw on; no self-respecting policy expert or political operative would work for a man like that.
But — surprisingly — many once-respectful Republican politicians and conservative hacks would defend a man like that.
Shame and regret
They still do. Tune into Fox News and you will hear the most convoluted excuses. "At least this doesn't prove collusion," and even if it does, "collusion isn't a crime." "Truth isn't truth." And if all else fails, change the conversation to Hillary Clinton. "Lock her up!"
Perhaps, several decades from now, like Pat Buchanan continuing to defend his old boss, Richard Nixon, these Trump apologists will still be at it. But I suspect that, much sooner than that, they will look back on this time with shame and regret — as they should.
No honest observer can mistake Trump for anything but a crook anymore, and we haven't even learned the full truth about his campaign's collaboration with Russia or the corruption at his so-called charity, the Trump Foundation. It is not unthinkable that the president will be personally implicated for the crimes that happened at his organization and during his campaign.
Will Republicans finally admit the truth at that point? I doubt it. They could have deduced all this two years ago, when the media were reporting on Trump's business failures, his shady foundation, his personal transgressions and his campaign's odd relations to Russia — but they didn't care. This is what they voted for.