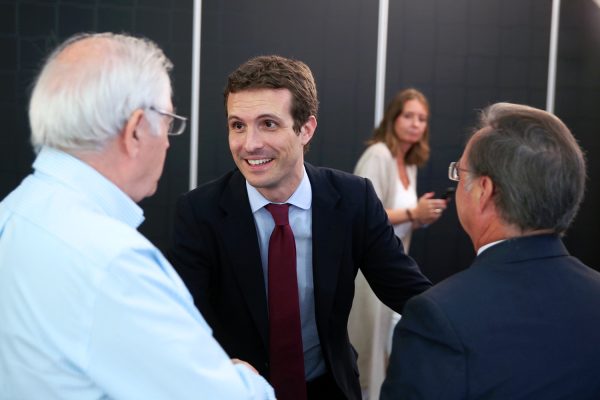 The new Spanish conservative party leader, Pablo Casado, is making good on his promise to move the People's Party to the right.
In talks with Prime Minister Pedro Sánchez, who leads a minority left-wing government, Casado refused to support dialogue with Catalan parties that want to break away from Spain.
Separately, he argued Spain cannot "absorb millions of Africans who want to come to Europe in search of a better future."
Both positions mark a hardening from those of Casado's predecessor, and the previous prime minister, Mariano Rajoy.
Catalonia
Rajoy refused to negotiate with the Catalans — which I argued at the time was a mistake, as it gave the region's separatists no choice but to either accept the status quo or push for unilateral secession — but he would at least meet with them.
Casado's refusal to endorse dialogue limits Sánchez' room for maneuver. The separatists control Catalonia's regional government. Sánchez has a majority of left-wing and regional parties in the national parliament's lower chamber, but not in the Senate, where the People's Party is still in control.
Immigration
Rajoy, unlike other center-right leaders in Europe, did not politicize the immigration issue. Politico reports that there has been a broad acceptance of immigrants in Spain:
During the country's decade-long economic boom, which began in the mid-1990s, around five million foreigners migrated to Spain. They were mainly Latin Americans and Eastern Europeans who were able to work legally, although thousands of Sub-Saharan Africans also attempted to reach Spain in a trend that peaked in 2006.
Even when the economy hit a slump, between 2008 and 2012, immigration seldom featured on the political agenda. The only anti-immigration party, Vox, has yet to win any seats in Congress.
Why the harder line?
I think two reasons:
The People's Party lost support to the liberal Citizens in the wake of last year's Catalan independence referendum, which had been ruled illegal by the Constitutional Court. The Citizens, who are also the largest unionist party in Catalonia, oppose any and all concessions to the separatists.
Vox may not be a threat yet, but Casado doesn't want to give them an opportunity to challenge the People's Party from the right. Hence also his emphasis on family values and opposition to euthanasia.