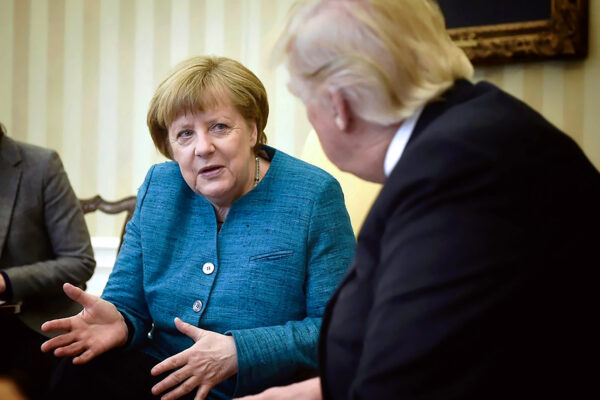 Europe is striking back against Donald Trump's aluminum and steel tariffs, taxing €2.8 billion worth of American exports to the EU, including Kentucky bourbon and Harley Davidson motorcycles manufactured in Wisconsin, the home states of Republican leaders Mitch McConnell and Paul Ryan, respectively.
The response is relatively mild. Trump's tariffs target €6.6 billion in European exports to America. But it marks a new low in transatlantic relations, which started to deteriorate almost on the day Trump took office.
Where do we go from here? Below the views of four experts.
Leonid Bershidsky
Bloomberg's Leonid Bershidsky points out that Europe is engaging in a tit-for-tat to defend the global trade system:
From a business standpoint, a yawn would be Europe's best answer to Trump's steel and aluminum tariffs. The move is only directed against […] 1.7 percent of the total goods exports.
But if Europe does nothing, the international trade system would shift from one based on rules to one based on might — and that would be far costlier in the long term.
Daniel Fried
Daniel Fried, a retired diplomat now at the Atlantic Council, laments that Trump's team regards fighting with democratic allies as a sign of virtue:
They lack historic perspective about what nationalism in Europe has meant in practice — war and ruin — and seem indifferent to the consequences of undermining the United States' alliances: do so, and our adversaries will make a meal of us and our friends.
Edward Luce
Edward Luce argues in the Financial Times that a smarter Trump would play countries off against each other: separating Britain from the EU by offering it an exemption from trade tariffs, for example, or flattering Italy's new populist government. Instead, he has united the West against him.
Luce volunteers two explanations:
Trump is incompetent. He knows the kind of world he wants — a return to the 1950s — but is too foolish to maximize his chances of realizing it.
Trump's id is bigger than his ego. His ego wants a mercantilist world. His id craves revenge. Punishing America's partners for allegedly ripping her off is incompatible with separating them from each other.
Judah Grunstein
Judah Grunstein argues much the same in World Politics Review. Trump, he writes, has succeeded where advocates of closer European integration have failed. He has convinced Europeans that without a muscular approach to trade and security, one grounded in geopolitics rather than appeals to soft power, the EU will be pushed around as a strategic actor on the world stage.
But as it becomes more assertive, Europe's role could change: from an enormous Switzerland to a Fortress Europe — open, prosperous and protected within its borders, but suspicious of the outside world.