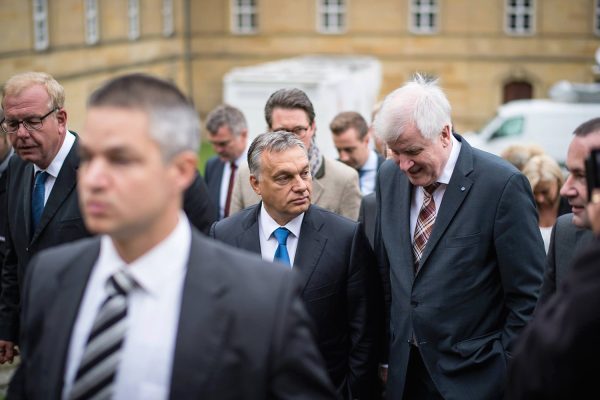 Germany's ruling conservative parties are at odds over immigration. Bavaria's Christian Social Union (CSU) wants to turn refugees away at the border if they have already applied for asylum in another EU country. Angela Merkel's Christian Democratic Union (CDU) argues this goes too far.
Here is everything you need to know about the row.
Which parties are involved?
The CSU is biggest party in Bavaria. It does not compete in other parts of Germany. It groups with the CDU in the national parliament, the Bundestag.
The two rule in a coalition with the Social Democrats (SPD), who also reject the CSU proposal.
What does the CSU want?
Horst Seehofer, the CSU party leader and German interior minister, has proposed 63 immigration reforms, the most contentious of which is turning people away at the border.
Under EU law, migrants must apply for asylum in the first EU state they arrive in. The goal is to prevent people applying for asylum in more than one country.
The system broke down in 2015, when Merkel unilaterally decided to accept Syrian refugees who had already passed through other EU member states.
On its face, Seehofer is only arguing for enforcement of EU law. Except that countries like Greece, Hungary and Austria have not been making good on their commitments and allowed immigrants to pass through without registering them or processing asylum requests. Turning people away by the time they reach the German border could leave them in a legal no man's land.
Moreover, there's an economic cost. Manually checking everyone's papers at the border would impede trade.
What does the CDU want?
Merkel has asked for more time. There is an EU summit in two weeks. She wants to use that as an opportunity to work toward an international solution to the problem.
The CSU has turned her down.
Why?
For one, Merkel hasn't been able to find a pan-European solution in three years. Central and Eastern European countries simply refuse to let in refugees.
Another reason is political. The CSU wants this confrontation. It faces state elections in October. The Alternative for Germany is challenging it from the right. As the Financial Times puts it, "Reintroducing border controls is a sure-fire vote-winner in a conservative state worried about imported terrorists and criminals."
What happens next?
Seehofer could enforce his policy by ministerial decree. Merkel could then sack him, which would certainly lead to a rift between the two conservative parties — and possibly the collapse of the coalition. The CDU and SPD do not have a majority without the CSU.