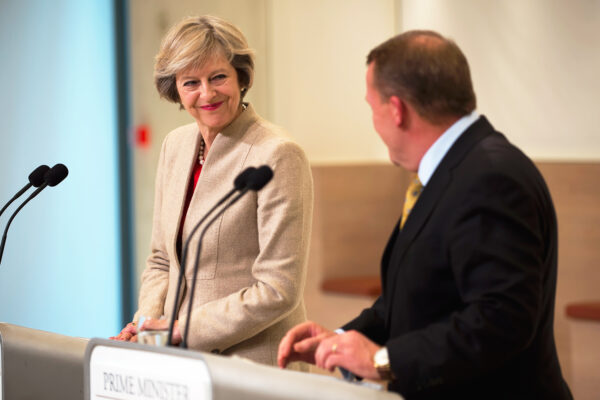 In local elections on Thursday, both of Britain's major parties did just well enough to keep criticism about their leaders at bay without doing well enough to silence it altogether.
Conservatives
Prime Minister Theresa May's Conservatives won back nearly all the seats they lost to the far-right United Kingdom Independence Party four years ago. They also won control of local councils in areas that heavily supported Brexit in the 2016 referendum.
Yet, with 147 out of 150 councils reporting, Conservatives stand to lose two.
The worry is that the party's electoral faith is now tied even more strongly to Brexit. But Conservatives can be thankful they did well in suburban and rural areas.
Labour
Labour's hopes in London came to nothing when it failed to take control of Barnet, a borough to the northwest of the city center. It needed only one more seat there.
Barnet has one of the highest Jewish population shares in the kingdom. Labour's failure there is probably due to the botched attempts of Jeremy Corbyn to deal with accusations of antisemitism in his party.
Labour did win in Plymouth, on England's southwest coast, and held up well in urban areas, including Birmingham, Leeds and Manchester.
Liberal Democrats
The Liberal Democrats arguably had the best night, but they started from a much lower base due to heavy losses four years ago.
Senior Liberal Democrat Ed Davey proclaimed that their electoral battering for joining David Cameron's 2010-15 coalition government was now "over". The party defended the four councils it controlled and added four more: Kingston upon Thames, Richmond upon Thames, South Cambridgeshire and Three Rivers.
What's next?
Thoughts now turn to the local elections of May 2019. These will be the first after Britain exits the EU. They will be held across England and Northern Ireland, so they should provide a better understanding of where the parties stand.
The takeaway so far is that the Conservatives remain the party of the small towns, suburbia and countryside and Labour the party of the major cities. That gives neither a clear majority.
Britain has had three hung parliaments, two of which have been in the last decade. Yesterday's local elections seem to be pointing toward a third.