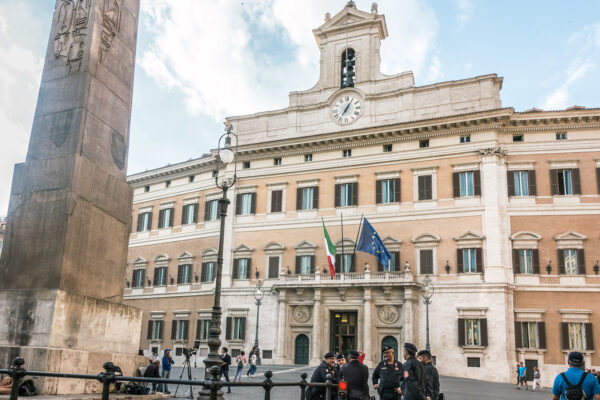 Italy's populist Five Star Movement and (formerly Northern) League have finalized a coalition agreement.
Among their policies are:
Reducing personal and business taxes to two rates: 15 and 20 percent.
A €780 monthly basic income for poor families.
Repealing 2011 pension reforms that raised the retirement age and made the system financially sustainable.
Withdrawal of EU sanctions on Moscow.
Speeding up the deportation of around 500,000 immigrants.
The final version of the text does not call for a pathway for countries to leave the euro, nor does it call on the European Central Bank to cancel €250 billion in Italian debt. These proposals had been in leaked drafts.
However, the planned fiscal measures will almost certainly cause Italy to break the EU's 3-percent deficit ceiling.
What's next?
The parties have yet to agree on a candidate for prime minister.
The Five Stars will poll their supporters online about the deal. The League plans to sound out its base across town squares on Saturday.
President Sergio Mattarella must formally approve the agreement, but a president hasn't rejected one in sixty years.
Once a cabinet is assembled, it will be subject to a confidence vote in both houses of parliament.
Possible prime ministers
Politico lists the contenders:
Luigi Di Maio: As leader of the largest party, he has the strongest claim. The League objects, though, arguing it would give the Five Stars too much power.
Alfonso Bonafede: A close ally of Di Maio's. Has built a reputation as the Five Stars' fixer.
Vincenzo Spadafora: Is described by Italian media as the éminence grise of the Five Star Movement.
Implications for Europe
The Five Stars' and League's opposition to sanctions, and sympathy for Russia, threatens the bloc's already fragile consensus on how to treat Vladimir Putin's regime.
As Alessandro Gagaridis argued here yesterday, a Euroskeptic Italian government would deprive French president Emmanuel Macron of an ally for EU reform. Closer eurozone integration is now unlikely.
Neither party supports free trade. This at a time when the EU has stepped up its defense of open commerce in response to the protectionism of America's Donald Trump.