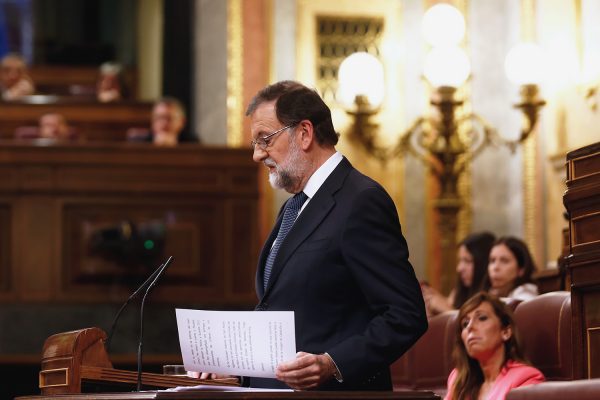 Spanish lawmakers are debating whether or not to remove Mariano Rajoy as prime minister. A no-confidence motion introduced by the opposition Socialist Party is due to be voted on tomorrow.
Here is everything you need to know about the vote, including its chances of success.
Why a no-confidence vote?
The Socialists announced their motion after dozens of members of Rajoy's conservative People's Party were found guilty last week of embezzlement and tax evasion for operating an illegal slush fund between 1999 and 2005 to finance the party's political campaigns.
Rajoy himself has not been implicated, although the judge called his denials of involvement "not credible".
Rajoy downplayed the verdict in a speech to parliament on Thursday, claiming it only established "a civil liability over events that took place at two municipalities fifteen years ago." That's an awfully generous way of describing Spain's biggest corruption scandal in two decades.
How does the vote work?
Unlike in most other democracies, a no-confidence vote in Spain doesn't necessarily trigger early elections and can only succeed if opposition parties simultaneously nominate a new prime minister.
That means they must decide not only if they want to remove Rajoy, but also if they want the Socialist Party's Pedro Sánchez to take his place.
That may be a bridge too far for the liberal Citizens, who want early elections but not a left-wing government.
How likely is the vote to succeed?
The Socialists have the support of the far-left Podemos. The two have 151 out of 350 seats in the Congress of Deputies, Spain's lower chamber — 25 short of a majority.
There are two ways for the Socialists to get a majority:
The Citizens (32 seats) vote with them. The party has so far supported Rajoy's minority government, but it was willing to team up with the Socialists after the inconclusive election of December 2015. If it changes sides again, Rajoy loses.
Without the Citizens' support, Sánchez needs the small regionalist parties on his side. Catalonia's Republican Left (ERC, nine seats) supports him. The region's other separatist party, PDeCAT (eight seats), and Valencia's nationalist Compromís (four seats) are undecided. The Basque Nationalist Party (PNV, five seats) recently voted for Rajoy's budget, but now says it might switch to Sánchez. It is unclear where the Basque Country's far-left separatist party, EH Bildu (two seats), and the two deputies from the Canary Islands stand.
Who stands to benefit?
The Citizens. They are polling at 24-28 percent support, up from 13 percent in the last election. The People's Party is down: from 33 to 20-26 percent.
The reason is not primarily the corruption scandal but rather the Catalan independence crisis. The Citizens have taken a hard line against the separatists. Right-wing voters who feel Rajoy has been indecisive are defecting.
Support for the Socialists is virtually unchanged at 20-23 percent. Podemos is down a few points, from 21 to 17-20 percent.