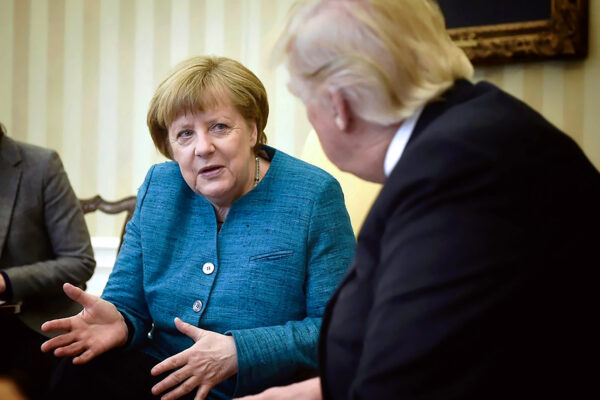 Stephen Walt argues in Foreign Policy that the diplomatic crisis around the Iran nuclear deal shows European leaders don't know how to handle an American bully:
[I]nstead of getting tough with Trump and warning him that Europe would both stick to the deal and defy any subsequent US effort to impose secondary sanctions on them, [France, Germany and the United Kingdom] chose to mollify and flatter Trump instead.
It seems to no avail.
It pains me to admit it, but Walt has a point:
[T]he European response to Trump shows how successfully the United States has tamed and subordinated the former great powers that once dominated world politics. After seventy-plus years of letting Uncle Sam run the show, European leaders can barely think in strategic terms, let alone act in a tough-minded fashion when they are dealing with the United States.
I do think this is slowly changing. Trump is a wake-up call. The EU is rushing new trade agreements with Japan and Mexico. France is leading efforts to deepen European defense cooperation outside NATO. The Balts and Scandinavians are remilitarizing.
But deferring to America is a hard habit to kick.
What happens if America leaves the Iran deal
Philip Gordon, who helped negotiate the Iran deal for President Barack Obama, warns in The Atlantic that the consequences of America withdrawing from the agreement are unpredictable.
Iran would probably resume its nuclear weapons program, but at an unknown pace.
European companies would want to continue doing business with Iran, but they would look to Washington to see if it reinstates sanctions.
China and India would be more likely to ignore new sanctions and buy Iranian oil, which could trigger a (worse) global trade war.
The president who denounced spending American blood and treasure in the Middle East as a colossal waste would run the risk of a regional conflict with Iran, including terrorist attacks on American troops in Iraq and Hezbollah missile attacks on Israel.
Macron runs a tight operation
Anne-Sylvaine Chassany reports for the Financial Times that Emmanuel Macron's presidency is one of the most centralized and technocratic in French postwar history:
From his corner office overlooking the gardens of the Elysée Palace, the youngest French leader since Napoleon is running a tight operation designed to exert maximum control over his government, parliamentary majority and party. Surrounded by a handful of trusted aides and dozens of millennial, mostly male, staffers, Macron is rolling out his economic plan, overseeing every element of its execution, shaping France's diplomacy and concocting minutely choreographed communications coups. Rarely in the history of the French republic have decisions lain in the hands of so few — or so young.
The flip side: early supporters feel Macron's style betrays his campaign promise of democratic renewal. Cracks are beginning to appear in the Macronist galaxy between the Elysée and its satellites: En Marche lawmakers and party members. About half of the 200,000 or so "marcheurs" who helped get Macron elected have become inactive.