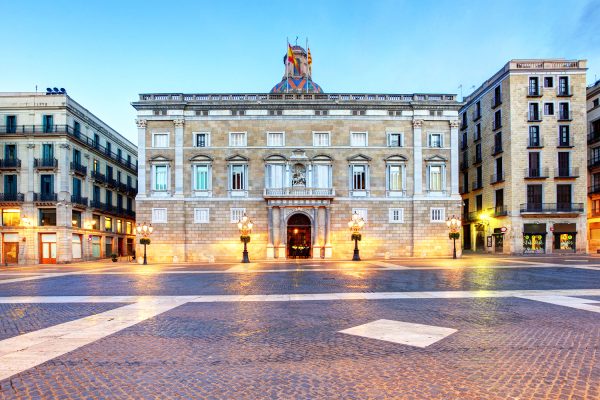 Catalonia's largest independence party, Together for Yes, has proposed its fourth candidate for the regional presidency after the Constitutional Court suspended a law to allow Carles Puigdemont to be sworn in from abroad.
Quim Torra, the former president of the pro-independence civil society organization Òmnium Cultural, is due to be inaugurated next week.
Why not Puigdemont?
Puigdemont, who was removed from power by Spain after presiding over an independence referendum last year, is in Germany, awaiting possible extradition.
His supporters had legislated to make it possible for him to be inaugurated from abroad, but that is likely to be overturned by the Constitutional Court.
The numbers two and three of his party, Jordi Sànchez and Jordi Turrull, were also ineligible. Both are in jail and due to face trial for their role in the October 1 referendum, which was illegal under Spanish law.
Will Torra get confirmed?
The big question mark is the far-left Popular Unity Candidacy (CUP). Although it has only four out of 135 seats in the Catalan legislature, the larger independence parties need it for their majority.
CUP, which argues for immediate secession from Spain, has so far maintained that Puigdemont is the only legitimate candidate. However, El Nacional reports that Torra has good relations with the party.
What if Torra isn't confirmed?
The separatists will then have two weeks to find another candidate before parliament is automatically dissolved and new elections are called.
What if he is?
Then the next question will be if Madrid lifts direct rule.
The Senate resolution that authorized the central government to suspend Catalonia's self-government in October calls for autonomy to be restored as soon as the region installs a new government.
That is also the position of the Spanish government, led by Mariano Rajoy.
However, the staunchly unionist Citizens, who vote with Rajoy, now argue direct rule must be maintained "until there is a commitment to respect the law and the Constitution" in Catalonia.
The Citizens are up in the polls. In some they have even overtaken Rajoy's as the single largest party of Spain. They appeal to nationalist voters who feel Rajoy hasn't taken a hard enough line against the Catalan independence movement.