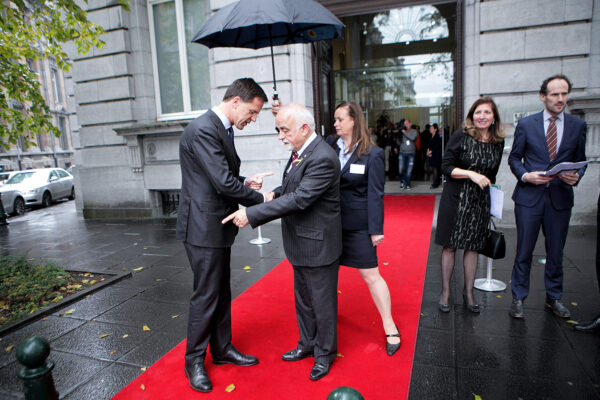 Dutch prime minister Mark Rutte is in trouble.
When his latest government, a coalition of Christian and liberal parties, came to power in October, he claimed there was no paperwork to support its contention that the Netherlands needed to eliminate dividend tax altogether in order to remain competitive. Now it turns out the Finance Ministry did write a series of memos on the topic — and doubted the tax played a major role in multinationals' decisionmaking.
The Finance Ministry produces a lot of memos when political parties are negotiating to form a government, so it is possible that Rutte didn't see this one.
Except this was by far the most controversial policy of the new government. None of the governing parties had promised to cut dividend tax in their manifestos. There had been no public debate about it.
The suspicion in The Hague is that Rutte's former employer, Unilever, and Royal Dutch Shell lobbied to get the tax removed.
Opposition parties have already called on Rutte to step down. That is unlikely. Prime minister since 2010, Rutte has a knack for talking his way out of problems and the ruling parties have no incentive to force him out.
Why France and Germany treat Trump differently
James Kirchick argues that the difference in French and German attitudes toward Donald Trump — pragmatism versus petulance — is due to different postwar perceptions of America:
Like a big brother, America has been simultaneously loved, feared and hated by Germany in the more than seventy years since the end of World War II. Germany remains dependent on the United States for its security and, as in any relationship, dependency can breed resentment.
In Trump, the Germans feel they have lost their illusions about the United States.
The French, by contrast, never romanticized America and (something Kirchick doesn't mention) always maintained a higher opinion of themselves. That translated into a more independent foreign policy, with Charles de Gaulle famously seeking to position France as a third pole between the United Kingdom and the United States in the West and the Soviet bloc in the East.
Democrats open door to talks with Five Stars
Italy's Democrats have opened the door to coalition talks with the populist Five Star Movement. At the Democrats' insistence, Five Star leader Luigi Di Maio has slammed the door on a deal with the nativist (Northern) League, saying, "Matteo Salvini and the League have opted for irrelevance."
Di Maio was willing to negotiate with Salvini, but not with his ally, former prime minister Silvio Berlusconi. Salvini, for his part, was unwilling to negotiate with Di Maio alone.
The Democrats and Five Stars have a majority in both chambers between them. The problem is that outgoing Democratic Party leader Matteo Renzi opposes a pact, since the Five Stars call for reversing his signature labor reforms.
Thoughts on a job guarantee
Dylan Matthews writes in Vox about the American left's embrace of a job guarantee. It's a fair piece that lays out the arguments for and against. Read Megan McArdle in The Washington Post for more arguments against.
I haven't read much more about this, so I won't comment in depth. Two thoughts, though:
In the 1990s, the Dutch tried something like this for those who, whether due to physical or mental disability, could not find work on their own. The hope was that by gaining experience in a subsidized public-sector job, they would eventually be able to transition to the private sector. That seldom happened.
It's not that there aren't enough jobs in the United States. It's that the jobs available to Americans without a college education — and increasingly to Americans with a degree from a mediocre university — don't pay for a middle-class lifestyle anymore. This is not a job crisis, it's a cost-of-living crisis.