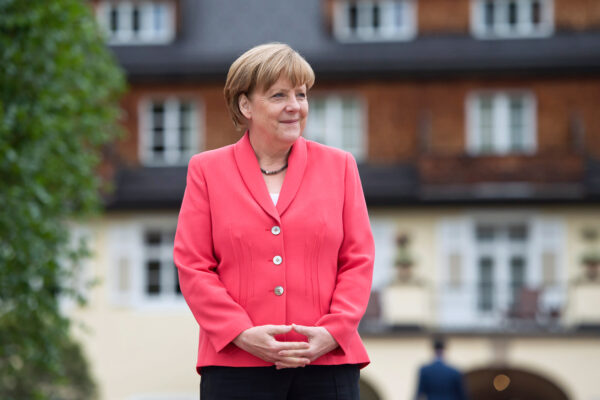 Angela Merkel's response to Emmanuel Macron's EU reform push is to beef up the Eurogroup: the regular conclave of finance ministers from the nineteen countries that use the single currency. Merkel would add economy ministers to the meetings and expand the Eurogroup's remit to include all areas of economic policy.
Mehreen Khan argues in the Financial Times that it's a good way to sabotage eurozone reform: "you effectively hollow out decisionmaking power and create a glorified talking shop."
I think that's an exaggeration, but Merkel and Macron do have different priorities.
The former, backed by a Dutch-led alliance of liberal member states, calls for structural reforms to boost competitiveness in the south. Macron argues for investments to promote convergence.
The end goal is the same, but the way they would get there is very different: Merkel puts the onus on the laggards while Macron argues for a shared responsibility. Hence his push for a common eurozone budget and a European finance minister.
Macron looks to Nordics for inspiration
Simon Kuper writes in the Financial Times that the nightmare for French policymakers is to wake up one morning and find that their country has become Italy. Macron looks to Scandinavia for inspiration.
His labor-market reforms — for which he borrowed the term "flexisecurity" from Denmark — aim to ease hiring and firing while giving more help to the unemployed.
Other Nordic-inspired priorities: cleaning up politics and increasing the rate of female politicians.
Also read my story from August on Macron borrowing from Scandinavia — and California.
Erdoğan calls early elections
Turkey's Recep Tayyip Erdoğan has called early elections to shore up his mandate.
Last year, Erdoğan narrowly won a referendum to change the constitution and formalize his executive presidency. But the changes don't take effect until the next election, which is now due on June 24.
I don't do a lot of Turkey analysis anymore, because I'm trying to focus on countries that I know really well. The person to follow is Soner Cagaptay at the Washington Institute for Near East Policy. He tweets:
Odds are stacked in Erdoğan's favor in Turkey's June 24th elections: polls to be held under state of emergency, pro-Erdoğan businesses control 90% of media, government can censure online content, new electoral law will staff election monitoring bodies with government appointees.
Housing crisis a test for progressives
Jonathan Chait argues in New York magazine that America's housing crisis is a test for progressives. Too many, he writes, "have taken a misguided, knee-jerk defense of the restrictive zoning policies that have perpetuated the urban housing crisis."
Also read my post from last week, in which I cited Kevin D. Williamson and Will Wilkinson to argue that expanding affordable housing is the key to reducing inequality.
Short version: A shortage of affordable housing is making it hard for Americans to move to cities, which is where the jobs are.