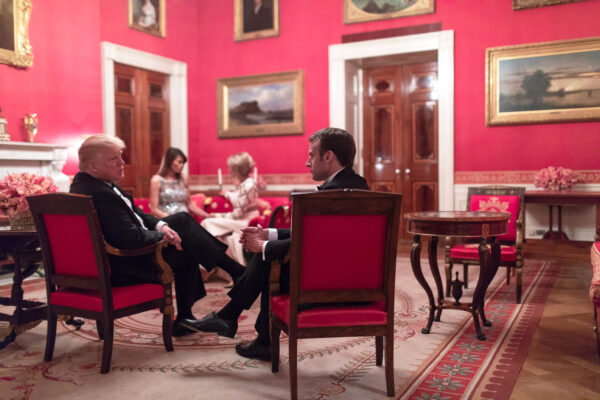 Der Spiegel laments that Angela Merkel is allowing Emmanuel Macron to take the lead in Europe.
The left-leaning weekly has complained for years that Merkel isn't bold and visionary enough, but they have a point this time: Macron has seduced both eurocrats in Brussels and Donald Trump in Washington while Merkel's authority in Berlin has been significantly reduced by a disappointing election result in September.
Also read Nicholas Vinocur in Politico on the French leader's transatlantic ambitions:
Macron is determined to restore France's greatness and Trump's friendship elevates Paris as a nuclear power with a seat on the United Nations Security Council at a time when Britain — usually Washington's preferred ally — is sidelined by the Brexit process.
Trump should offer Macron a deal
Jeremie Gallon and Jeffrey Lightfoot argue in The American Interest that Donald Trump should offer his French counterpart, Emmanuel Macron, a deal when he visits Washington DC on Tuesday:
Macron shares Trump's concern about predatory Chinese economic behavior. […] As long as the US threatens the European Union with tariffs on surplus steel and aluminum imports, France cannot convince Brussels and other EU countries to work alongside Washington in challenging China's behavior. Thus, Trump should offer his French friend the prize of permanent European exemptions on steel and aluminum tariffs and aim to forge a US-EU alliance in demanding greater concessions from China.
Mistaking Trump's lies for authenticity
Yascha Mounk on why Trump voters mistake his lying for authenticity:
When the political system is widely seen as doing its job, somebody like Trump, who violates its basic norms, is seen as illegitimate. A politician who blatantly lies doesn't stand a chance. But this changes when more and more people come to believe that the system is rigged and that most politicians don't have their best interests in mind. Amid such a "crisis of legitimacy," voters don't particularly care whether a politician plays by the rules of the game. Instead, they long for somebody who bluntly states how rotten the system really is.
Violations of basic norms then come to seen as proof that the candidate really is different from everybody else.
Armenians force out prime minister
Mass protests have forced out the Armenian prime minister, Serzh Sargsyan, after he reneged on a promise not to seek the office a second time.
András Tóth-Czifra writes that while the demonstrations were not about Russia per se, Armenia's former Soviet overlord did play a role. It supported the reinstatement of Karen Karapetyan as prime minister.