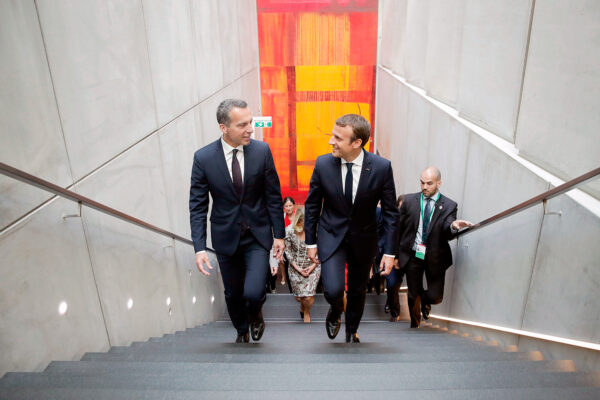 The moderate French Democratic Confederation of Labor (CFDT) has joined the hardline General Confederation of Labor (CGT) in weekly strikes against a proposed overhaul of the state railway company, yet President Emmanuel Macron shows no sign of budging.
Most French voters support his effort to end generous employment terms for new — not existing — rail workers, including automatic pay rises and early retirement.
That may change as travelers are exposed to frequent disruptions, but, as I argued here the other week, falling popularity is unlikely to keep Macron up at night. He has four years left for his reforms to start bearing fruit and there is no unified opposition against him.
French political reforms
Macron has also unveiled political reforms:
Seats in both chambers of parliament would be cut by a third: from 577 to 404 in the National Assembly and from 348 to 243 in the Senate.
Proportional representation would be introduced for 15 percent of the seats in the National Assembly, making it easier for small parties to win seats.
Elected officials would be banned from running for office more than three times, except for the mayors of small towns.
The reforms will almost certainly pass in the National Assembly, where Macron has an absolute majority. But they may be trickier to get through the Senate, where conservatives have the most seats.
China retaliates in trade war
China has said it will retaliate with a 25-percent tariff on American aircraft, cars, chemicals, liquor, meat, soybeans and about 100 other products if President Donald Trump continues his trade war on the country.
Earlier this week, Trump vowed to raise tariffs on $50 billion worth of Chinese imports.
Revealing his ignorance of basic economics, the president tweeted, "When you're already $500 billion DOWN, you can't lose!" (America's trade deficit with China was $375 billion in 2017.)
Of course Americans will lose. Tariffs might protect a few thousand jobs in manufacturing, but they will hurt tens of millions of consumers who buy cheap Chinese products as well as those who work in industries that export to China.
Also read Ryan Bohl on the dangers of (insert your country's name) first policies.
Don't dismiss Trump's war on Amazon
Edward Luce argues not to underestimate Trump's campaign against Jeff Bezos, the owner of Amazon and The Washington Post.
Much of the Democratic Party supports the idea of breaking up the big tech companies. Trump could pressure the Federal Trade Commission to launch an antitrust investigation of Amazon's impact on retailers.
Trump-appointed regulators have altered competition rules to make life easier for Sinclair Broadcasting, the ultraconservative owner of many local news stations.
The Department of Justice is looking to block AT&T's acquisition of Time Warner, which owns CNN, a network Trump frequently derides as "fake news".
Those who believe Trump acts solely on impulse are not paying attention, argues Luce. He is doing what populists always do:
They target independent media. In some cases, such as in Viktor Orbán's Hungary, they direct state advertising to friendly outlets. In Recep Tayyip Erdoğan's Turkey, they hound independents with tax raids. Regulatory intimidation also works.