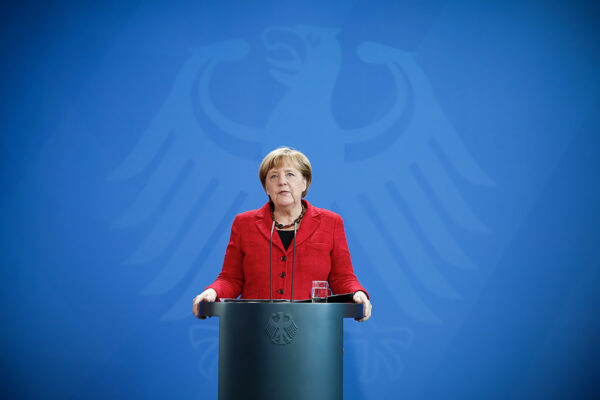 EurActiv reports that Franco-German relations are going through a rough patch.
The hope in Paris was that a new grand-coalition government in Berlin would be amenable to Emmanuel Macron's proposals for EU reform. In fact, little has changed. Germany remains apprehensive of transfer union: the permanent subsidization of the south by the north.
Meanwhile, the Dutch have formed an anti-Macron pact with Denmark, Estonia, Finland, Ireland, Latvia, Lithuania and Sweden. All argue for enforcing debt and deficit rules, completing the single market and pursuing free-trade deals as opposed to deepening political union in Europe.
Merkel hardens stand on Nord Stream 2
The German chancellor has said the Baltic Sea pipeline can only go ahead if Ukraine's role as a transit country is protected.
This marks a shift in German policy. So far, Angela Merkel's government has called Nord Stream 2 a commercial project. In reality, it is political. Russia doesn't need another pipeline to send gas to Europe. It wants another pipeline to bypass Ukraine.
Italian populists squabble
Talks to form a government in Italy are not going well.
After Luigi Di Maio, leader of the anti-establishment Five Star Movement, ruled out a deal with Silvio Berlusconi and other "right-wing ragbags", Matteo Salvini, the leader of the far-right (Northern) League, said Di Maio no longer interests him. He suggested the League could form a minority government as a last resort.
There are three obstacles to a coalition between the Five Stars and the League:
Ideological differences. Although the parties share Euroskeptic and pro-Russian views, the Five Stars consider themselves left-wing.
Both Di Maio and Salvini claim the right to become prime minister.
Di Maio has ruled out a pact with Berlusconi, the disgraced former prime minister. Salvini needs him.
Anti-Assad coalition in the works
Britain, France and Saudi Arabia have said they would join the United States in a response to the latest chemical attack in Syria.
Prime Minister Theresa May and President Emmanuel Macron agreed with President Donald Trump in separate phone calls that the international community must work together to ensure that Bashar al-Assad and his backers (Iran and Russia) are held to account, The Guardian reports.
Reuters reports that Saudi Arabia's de facto ruler, Crown Prince Mohammad bin Salman, wants the kingdom to be "present" in any action.
Saudi Arabia and the other Arab Gulf states see Assad as a proxy for their nemesis, Iran.
Axios has a useful map showing the situation on the ground in Syria. Kurdish groups control all territory east of the Euphrates. Other opposition groups remain active in the northwest, around Aleppo, and in the southwest, on the border with Israel. The Islamic State has been almost wiped out. Assad controls the major cities in the center as well as the Alawite heartland on the Mediterranean coast.