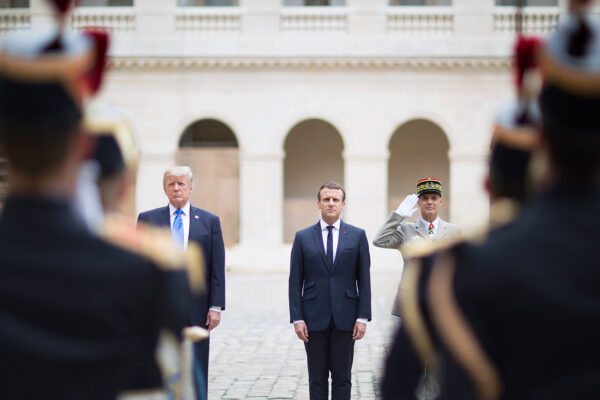 EurActiv reports that European reform is facing a reality check.
French president Emmanuel Macron has, with support from Germany, called for a common eurozone budget, harmonizing corporate tax and social security rates across Europe and merging national asylum procedures.
Two recent developments have poured cold water on his ideas:
The Italian election, which saw gains for Euroskeptic parties.
The Dutch organizing a resistance of deficit hawks.
The Dutch, Balts and Nordics fear that further risk-sharing in Europe will discourage high-debt countries from controlling spending. As if on cue, the same Euroskeptic parties that won the election in Italy now argue for relaxing the bloc's 3-percent deficit rule.
These fears are shared in Germany, where conservatives have long been wary of transfer union: the permanent subsidization of the south by the north.
Trump's emptying administration
Rex Tillerson wasn't the only one who lost his job this week; the undersecretary for public diplomacy and public affairs, the administrator of NASA and the director of the United States Forest Service all either quit or were fired by Donald Trump.
Gary Cohn, Trump's chief economist, announced his resignation only last week.
There is speculation that National Security Advisor H.R. McMaster and Veterans Affairs Secretary David Shulkin will be next.
At this rate, there won't be anyone left working in the White House in a few weeks.
John McEntee, one of Trump's closest staffers for the three years, was also fired after an investigation found evidence of "serious financial crimes". But he was promptly hired by Trump's 2020 reelection campaign.
The turnover rate is unprecedented. Meanwhile, The Washington Post counts hundreds of top-level positions, including ambassadorships and dozens of assistant, deputy and undersecretaries, including at Defense and State, that have yet to be filled. Those are the people who normally keep the government running and they simply aren't there.
Don't let anyone pretend they didn't see this coming. I argued here in the summer of 2016 that Trump would be terrible at managing the presidency, based on how he had managed his campaign and his business.
Trump demands loyalty but gives none. He relies on a small cadre of confidants and encourages competition between them, resulting in top staffers spending more time plotting than doing their jobs. He humiliates his underlings. Firing Tillerson by tweet is a classic example. He has no respect for expertise, no patience for bureaucracy. No self-respecting political operative or policy professional would work for a man like Trump.
Hence, with few exceptions, the staffing in his administration has been entirely second- or even third-rate. Which is the reason Trump has accomplished so little and Republicans in Congress have been able to dictate domestic policy.
Iran deal at risk
Politico reports that another victim of Tillerson's ouster could be the Iran nuclear deal. CIA director Mike Pompeo, whom Trump has tapped as Tillerson's replacement, is an outspoken opponent of the Obama-era agreement, which curtails Iran's nuclear program.
The deal's other parties — China, Russia and the EU — are very much in favor of keeping it in place.
This could be yet another area where Trump harms American diplomacy and transatlantic relations in particular.
Read more