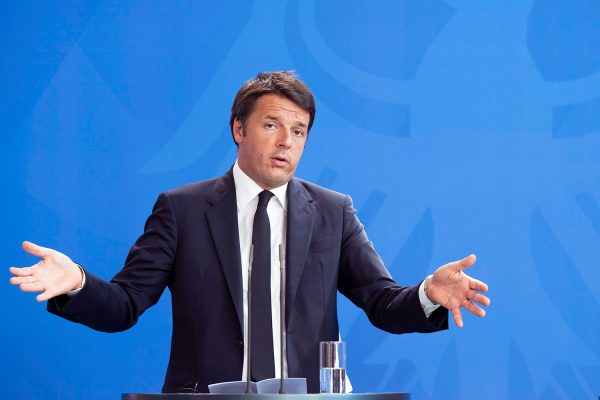 There are two realistic outcomes to Italy's election on Sunday: a right-wing government that includes the xenophobic Brothers of Italy and Northern League or a German-style grand coalition between Silvio Berlusconi's Forza Italia and the Democrats.
The second would be better for Italy and for Europe. To make that outcome more likely, Italians should vote for the center-left.
Good for Italy
The outgoing Democratic-led government has been good for Italy.
Despite outward signs of instability — three prime ministers in five years, a failed attempt to reform the Senate — there have been economic- and foreign-policy successes.
Matteo Renzi, who is leading the Democrats a second time after stepping down in 2016, enacted long-overdue labor reforms, which made it easier for companies to hire and fire workers.
He also cut taxes for businesses and individuals and legalized civil unions for gay couples.
His successor, Paolo Gentiloni, continued Renzi's reforms and has thrown Italy's weight behind the EU reform proposals of French president Emmanuel Macron.
Democratic plans for the next parliament include an hourly minimum wage of €10 and a tax credit for low-income families with children.
Better than the alternative
As is usual in Italy, the Democrats' campaign promises do not add up. But have you seen the competition?
Right-wing parties wants a flat tax but have no plan to pay for it. Forza Italia wants to raise pensions. The Northern League wants to lower the pension age. The far left wants to reverse Renzi's labor reforms and abolish university fees. The Five Star Movement wants a universal basic income.
In terms of foreign policy, too, the Democrats are the most sensible choice. The Five Star Movement and Northern League have both at times called for giving up the euro. The Five Stars aren't keen on NATO either. All the other major parties are pro-Putin.
At least Berlusconi has nominated the European Parliament chief, Antonio Tajani, for prime minister in case Forza Italia places first.
Chances are the Democrats will win more seats than Forza Italia, but Berlusconi may demand the prime ministership as the price for a grand coalition. If he does, the Democrats should give it to his party.