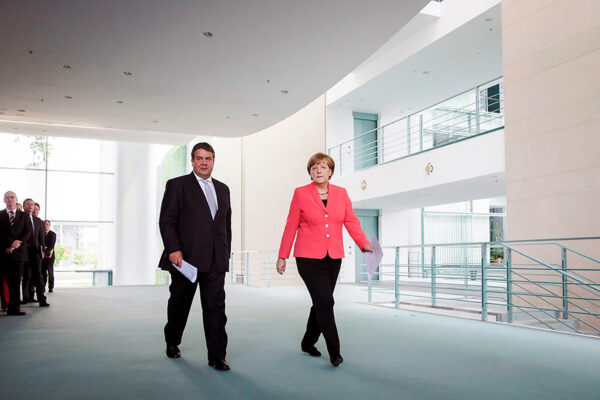 In the end, it wasn't even close. Nearly twice as many German Social Democratic Party members voted in favor of another grand coalition with Angela Merkel's conservatives as voted against it. The results of the internal poll were announced on Sunday.
Parliament is due to confirm Merkel for a fourth term as chancellor next week. If she sits this one out, she will be Germany's longest-ruling leader since Helmut Kohl.
Neither of the two major parties is out of the woods yet. The Social Democrats have fallen in the polls, losing support to, well, everyone. Merkel's Christian Democrats are facing competition from the Free Democrats on the right and the Alternative on the far right. The party will debate in the coming years whether to continue Merkel's centrist line or lurch to the right.
For now, though, the center can still hold.
Next problem: Italy
No single party or alliance is projected to win a majority in either chamber. That could make it fiendishly difficult to govern Italy.
The hope was that Matteo Renzi's Democrats and Silvio Berlusconi's Forza Italia would win enough seats between them to form a German-style grand coalition. That is no longer a realistic prospect.
Nor does Berlusconi have a majority on the right. His Forza Italia isn't even the largest party anymore. That is now the Euroskeptic, anti-immigrant Northern League.
Read our live blog for updates.
Impasse in Catalonia
Catalonia's smallest independence party, the Popular Unity Candidacy (CUP), has decided to abstain from the investiture of Jordi Sànchez as regional president, leaving the separatists two votes short of a majority.
CUP insists the only legitimate candidate is Carles Puigdemont, the deposed regional president and leader of Together for Catalonia.
Puigdemont remains in self-imposed exile in Belgium. He is wanted by Spain for organizing an independence referendum on October 1 that had been ruled illegal by the Constitutional Court. Last week, he stepped aside in favor of Sànchez.
It is doubtful Sànchez could be inaugurated anyway. He sits in a Madrid jail awaiting a trial for his own role in the October 1 referendum.
Trade war
This is how trade wars happen. American president Donald Trump hasn't even implemented his aluminum and steel tariffs and he is already threatening to tax European cars if the EU retaliates.