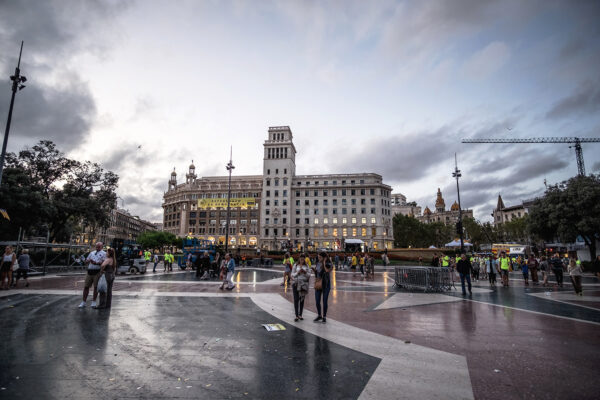 Five Catalan politicians, including the former speaker of parliament and three acting ministers, have been send (back) to jail for their role in the region's attempt to break away from Spain.
The fifth, Jordi Turull, had been put forward as a candidate for regional president by the largest independence party, Together for Catalonia, but he lost a vote in parliament on Thursday.
A sixth, Marta Rovira, has fled to Switzerland to escape arrest.
Rovira has led the second largest independence party, the Republican Left, since their leader, Oriol Junqueras, was jailed in December.
Thousands of Catalans took to the streets of Barcelona on Friday night to demonstrate against the Spanish judge's decision.
The arrests make it even more difficult to form a new government in the region. The separatists have a majority, but all their leaders are now either in jail or in self-imposed exile.
Motives for Russia's spy poisoning
Edward W. Walker, an American expert on post-Soviet Europe, sees five possible motives for Russia's poisoning of former double agent Sergei Skripal:
Punish past defectors and deter future ones.
Deter Russian émigrés from cooperating with Western agencies.
Demonstrate that the Kremlin is capable of making political life even more difficult for Western governments in myriad ways, including well-timed and more-or-less obvious assassinations on their territory.
Demonstrate how little leverage Western governments have over the Kremlin, particularly those like Britain, that benefit from Russian business and investment, and thereby aggravate Western disunity over how to respond to Russian influence operations.
Reinforce an atmosphere of crisis and attack inside Russia in order to mobilize the population.
Why German companies fail at innovation
Semih Aridogan lists four reasons German companies fail at digital innovation:
A top-down management culture combined with an overemphasis on consensus. "Creating new digital business models requires bold decisions by individualists."
Use of old tools, in part because strict data and privacy laws don't allow newer ones.
Underinvestment in digital infrastructure by the federal government.
Lack of talent. Education explains part of it, but also the fact that innovators move to more free-wheeling places, like Barcelona and San Francisco.