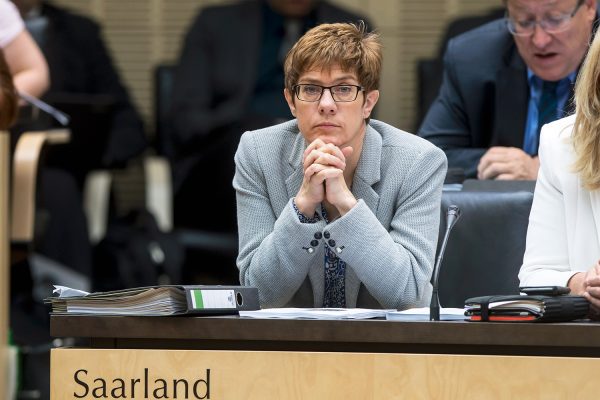 Angela Merkel is expected to step down as leader of Germany's Christian Democratic party (CDU) some time during or after her fourth term as chancellor.
Der Spiegel reports that she is grooming Annegret Kramp-Karrenbauer, the prime minister of Saarland, as her successor.
But there are at least two more candidates: Ursula von der Leyen, the current defense minister, and Jens Spahn, a lawmaker from North Rhine-Westphalia.
Annegret Kramp-Karrenbauer
Merkel reportedly sees Kramp-Karrenbauer as the best candidate to defend her legacy: modernizing the CDU and making it electable to young people, women and urban voters.
Kramp-Karrenbauer is popular in the party, but she lacks national experience. Hence her likely promotion to a ministerial post in the next government.
Ursula von der Leyen
The defense minister was long considered Merkel's favorite. She personally picked the younger woman from Lower Saxony state politics in 2005 to join the government.
But Von der Leyen has failed to inspire loyalty and made a number of missteps, including accusing the whole German army of having an "attitude problem" after a few right-wing extremist soldiers were exposed.
According to Der Spiegel, Merkel still sees Von der Leyen as an ally but no longer believes she can get a majority to support her.
Jens Spahn
Spahn is everything Merkel is not: right-wing, impatient and eager for attention. Gay himself, he supported marriage equality years before Merkel come around on the issue. His economic views are closer to those of the liberal Free Democrats. He is wary of another grand coalition with the Social Democrats.
Spahn's weakness is that, like Kramp-Karrenbauer, he has no government experience. Merkel could change that — or not.