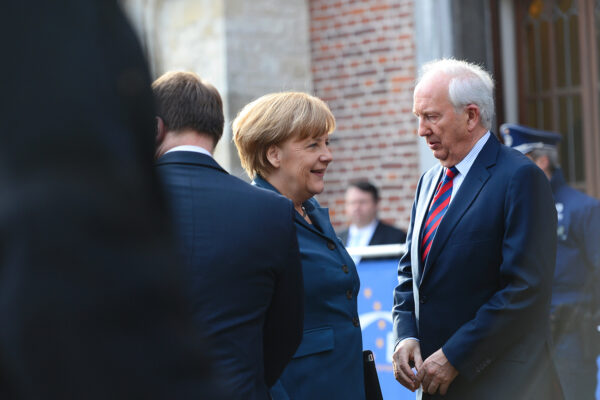 Delegates (not party members) of Germany's Christian Democratic Union (CDU) have voted overwhelmingly in favor of continuing the "grand coalition" with the Social Democrats. The waiting is now for the latter, who conclude a membership vote on Sunday.
The same CDU congress has named Annegret Kramp-Karrenbauer, the moderate prime minister of Saarland, as party secretary and Jens Spahn, a right-wing critic of Angela Merkel's immigration policy, as candidate for health minister.
Jeremy Cliffe argues in The Economist that the two appointments hint at a healthy ideological debate in the party:
In recent years, Mrs Merkel's electorally successful, highly tactical and ideologically indistinct brand of centrism has smothered the contrasts between [the CDU's] different ideological tendencies: liberal, Christian social and conservative. Now, however, a new period of cut-and-thrust in the party seems to be emerging.
"Christian view of humanity"
Kramp-Karrenbauer set out her view in an interview with Der Spiegel:
I think it is necessary for us to make clear once again what the bedrock of our party is, namely the Christian view of humanity. The CDU was a party that united different denominational and ideological currents. If the idea of a rightward shift means that we ignore those roots and only define ourselves as a conservative party, then I am strictly opposed.
This is why she is considered Merkel's favorite.
Insights on the Italian election
Cliffe also shared insights on the Italian election:
To many urban, middle-class northerners, Silvio Berlusconi is the sensible middle ground: firm on migration, non-scary on Europe.
If you think graffiti and the Eritreans in your small-town piazza are a bigger problem than the economy, Matteo Salvini (Northern League) is your guy.
The Five Stars appeal to young'uns in the north and center, who have never held down a solid job and still live with mamma, as well as older workers in south fed up with endlessly broken promises of renewal.
Millions of ambitious young Italians have left the country for opportunities elsewhere in Europe. This further concentrates Italy's remaining voters on its past (pensions) over its future (investment).
Also read James Politi in the Financial Times: Italian voters frustrated with shallow recovery.
Warning for the United States
Yascha Mounk, a political scientist, argues in Slate that Berlusconi's comeback defies the conventional wisdom in the United States that Donald Trump's supporters "will eventually grasp that he is an absurd buffoon incapable of delivering on his promises — and ditch him for good."
Rather, Berlusconi shows:
Just how difficult it is for a country to rid itself of populists once they have infiltrated the system; and
That the success of one populist party can easily spur a whole slew of imitators.
Italy's Five Star Movement and Northern League have now surpassed Berlusconi in craziness.
This bodes ill for the United States:
It suggests that, if [Trump] does lose in 2020, he or one of his relatives may stage a shocking comeback in 2024 or 2028. And it also suggests that the vast damage done to basic democratic norms during the Trump presidency could blaze a big trail for other populists even if Trump does leave the stage for good.