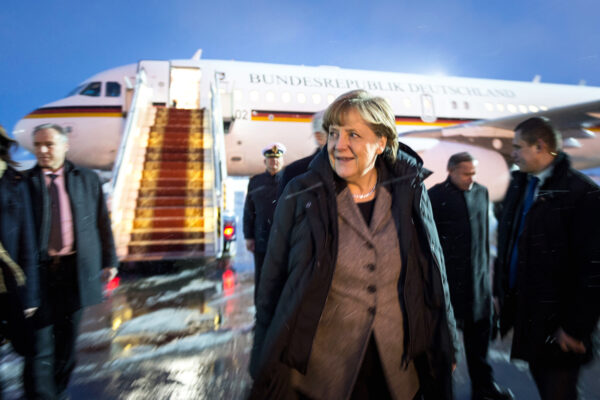 Germany's Social Democrats have played a losing hand extraordinarily well, the Financial Times reports.
Despite winning only 20 percent support in the election — their worst result in postwar history and 13 points behind the Christian Democrats — the center-left will have six ministries in the new government, including finance, foreign affairs and labor, and it extracted significant spending concessions from the conservatives. Expect the pro-business Free Democrats, as well as rightwingers in Merkel's own party, to pounce.
And yet it may not be enough. Among the 460,000 Social Democratic Party members who need to approve the deal before it can go through, there is reluctance to partner with Merkel a third time. Their fear is that the two centrist parties are becoming indistinguishable.
Republicans forget to care about deficits
Democratic and Republican leaders in the United States Senate have agreed a two-year budget deal to avoid a government shutdown.
The agreement lifts the debt ceiling and adds $300 billion to domestic and military spending.
The president is expected to support it, despite earlier threatening to veto a budget that doesn't simultaneously reform the immigration system.
Budget hawks are disappointed. Michael Tanner writes in National Review that deficits are projected to reach $1 trillion, their highest since 2012.
Unified Republican control of government was supposed to save us from big-spending Democrats. It hasn't quite turned out that way.
Matthew Yglesias argues in Vox that Republicans only care about deficits when they are out of power. Jonathan Bernstein has made the same argument in Bloomberg View:
This is the third time in a row, going back to 1981, that incoming Republican presidents with Republican (or almost-Republican) majority Congresses have come in, slashed taxes and seen deficits explode.
Dutch intervene in Caribbean
The Dutch government has deposed the council of Sint Eustatius and appointed Mike Franco, the former speaker of the parliament of Curaçao, as special commissioner on the island.
According to the Dutch, elected leaders were abusing their position. An investigation found lawlessness, intimidation and misuse of public funds.
Putting an Antillean in charge is a smart move when the deposed councilors will inevitably accuse the Dutch of neocolonialism.
Sint Eustatius (population: 4,000) has been a special municipality, rather than an overseas dependency, of the Netherlands since 2010, making it easier for the government in The Hague to intervene.
The national broadcaster NOS reports that the last time a municipal administration was unseated was in 1951, when communists took over a small town in the far north.