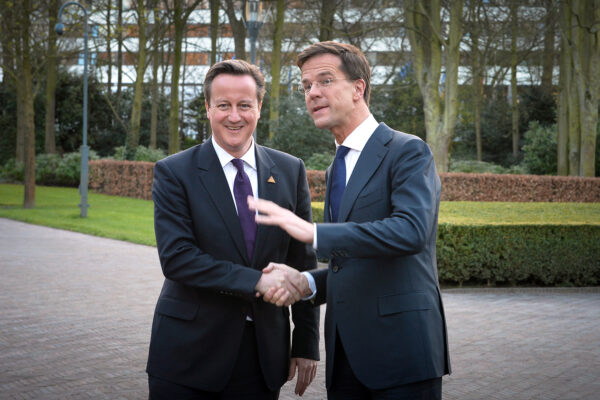 The Netherlands has a responsibility to lead after Brexit and worries that Germany is putting too much faith in "more Europe", Prime Minister Mark Rutte has said.
In an interview with the Sunday morning talk show Buitenhof, the liberal party leader pointed out that he had recently held summits with other Benelux nations, the Balts, Central Europeans and Nordics.
Unusually, he took a stab at Germany, where the next government is expected to be more integrationist.
"Of course, Germany can transfer more money to Europe," Rutte said in jest. "I have no objection to that. We take a different view."
Overshadowed
Smaller countries fear being overshadowed in the EU by France, Germany, Italy and Spain when the United Kingdom leaves in 2019. The Big Four account for 75 percent of the European population and generally share the view that problems in Europe require pan-European solutions.
As I reported last year, the Dutch, being the largest of the small countries, see a role for themselves as champions of free trade and the European single market as opposed to protectionism and "social union".
Against Macron
French president Emmanuel Macron's proposals for eurozone reform have added urgency to Rutte's task.
Unlike Macron, Rutte has little interest in creating a European finance minister.
His priority is encouraging liberalization and debt reduction.
He wants to avoid high-debt countries looking to Brussels in times of crisis.
He opposes the creation of a European Monetary Fund if it is controlled by the European Commission.
Bad cop
Dutch leaders are usually reluctant to challenge Berlin, given the Netherlands' economic dependence on Germany. It exports more to Germany alone than to Britain, France and Italy combined.
That is why they wanted Britain in the EU in the first place: so it could block far-reaching proposals and the Dutch wouldn't need to be "bad Europeans".
The Netherlands did occasionally play "bad cop" to Germany during the euro crisis. Brexit and a reinvigorated Franco-German partnership mean it will probably continue to assert its interests more forcefully.
But the Dutch know that, on their own, they cannot change German minds. Rutte's hope is that an alliance of liberal-minded states straddling the North and Baltic Seas can bring enough pressure to bear against the inward-looking tendencies of the Mediterraneans.