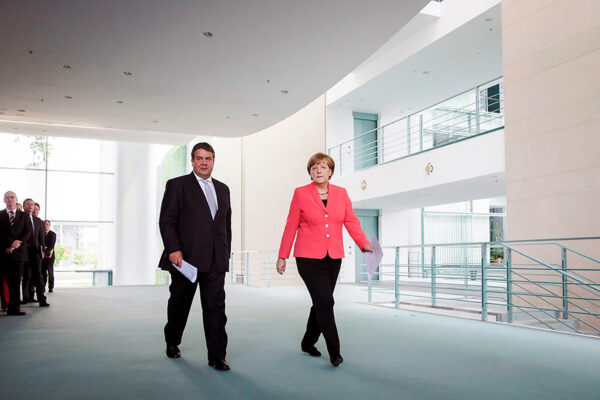 Germany's Christian Democrats and Social Democrats have agreed to form another "grand coalition" government.
Here is everything you need to know about the deal.
The basics
The coalition will consist of three parties: Angela Merkel's center-right Christian Democratic Union (CDU), its more right-wing Bavarian ally, the Christian Social Union (CSU), and the center-left Social Democratic Party (SPD).
The three parties have 399 out of 709 seats in the lower house of parliament.
The deal would allow Merkel to remain chancellor for another four years.
It comes after talks between the Christian Democrats, liberal Free Democrats and Greens failed.
Policies
Income tax: The Christian Democrats wanted to cut taxes. The Social Democrats wanted to raise them on high incomes. The compromise: no change in rates.
Solidarity tax: Introduced to pay for the reintegration of the formerly communist East Germany in 1990, the solidarity surcharge will be gradually reduced — but not yet abolished.
Health insurance: The parties pledge to restore parity between employer and employee contributions to health insurance, but there will still be private in addition to state insurance. The Social Democrats wanted to merge the two.
Pensions: Projected to fall to 47.6 percent of average lifetime earnings by 2020, state pensions will be fixed at their current level of 48 percent until 2025.
Housing: The building target is raised from 280,000 to 1.5 million apartments per year.
Immigration: Will be capped at 180-220,000 per year. Family reunifications will be limited to 1,000 people per month.
Europe: Support for some of French president Emmanuel Macron's proposals, including turning the European Stabilization Mechanism, the eurozone's current rescue fund, into a European Monetary Fund and taking steps toward an "investment budget" to stabilize economies and support structural reforms.
Arms sales: Germany will stop selling weapons to Saudi Arabia and the United Arab Emirates so long as they continue their war in Yemen.
Politics
Many Social Democrats are reluctant to team up with Merkel a third time. The last two grand coalitions caused them to lose support to the center (voters who saw little difference between the CDU and SPD anymore) and the left (voters who felt the SPD had betrayed its left-wing principles).
Merkel, despite defying the doomsayers for the nth time, is approaching the end of her political career. The expectation is that this will be her last government.
The CSU lost support to the right (Free Democrats) and far right (Alternative for Germany) in last year's election. It is betting on a hardline immigration policy to win back reactionary voters in the south.
Analysis
What's next?
Before the parties can hash out the details of the program, SPD delegates must approve the launch of formal negotiations at a party conference on January 21.
The full party membership — around 400,000 — will get a vote over the final accord, which could be weeks or even months away.