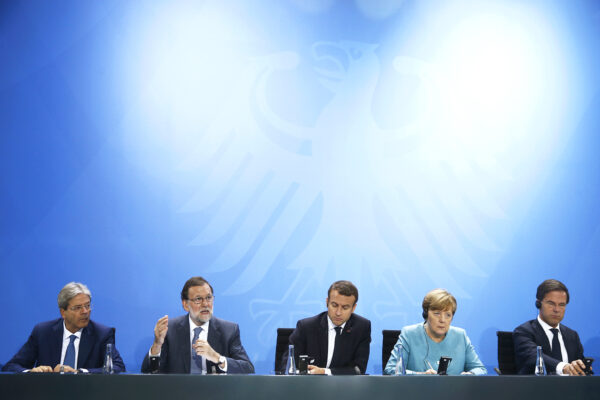 France's push for closer European integration is gaining momentum.
Martin Schulz, the leader of Germany's Social Democrats, has conditioned another grand coalition government with Angela Merkel's Christian Democrats on support for Emmanuel Macron's proposals.
Armin Laschet, the prime minister of Germany's most populous state, North Rhine-Westphalia, and a prominent Christian Democrat has come out in support of the French agenda.
The European Commission has unveiled its own proposals for closer economic and fiscal integration that resemble Macron's.
What Macron wants
In a speech at the Sorbonne university in Paris in September, the French president called for:
A common eurozone budget to finance investments and cushion economic shocks;
A European finance minister;
Harmonizing corporate tax rates and social security contributions;
A European military intervention force and budget;
A single European asylum office to process applications; and
A European innovation agency.
Differences with the commission
There are important differences between the commission's proposals and Macron's.
Macron's investment fund would have broad responsibilities but be eurozone-only. The commission calls for a European Monetary Fund that would strictly act as a lender of last resort for banks but in the entire EU.
The commission would put both the new monetary fund and the existing European Stability Mechanism (ESM), which can bail out governments, under its control. The ESM is currently run by eurozone governments.
The commission would combine the role of European finance minister with the chair of the Eurogroup and make this person a vice president.
Bottom line: This is the beginning of a tug of war between the commission and the member states — which is not unusual.
The opposition
There is still powerful opposition to the push for closer integration.
Germany's liberal Free Democrats abandoned coalition talks with Merkel because they couldn't stomach Macron's proposals. They will make common cause with the far-right Alternative for Germany against anything that smacks of transfer union.
Mark Rutte, the Dutch prime minister, is rallying Baltic and Nordic opposition to tax harmonization. He would rather focus on deepening the single market in services.
Central and Eastern European member states are wary that defense union might weaken NATO.
The same countries, led by Hungary and Poland, oppose a common immigration policy. They would be happy to not let in any refugees.