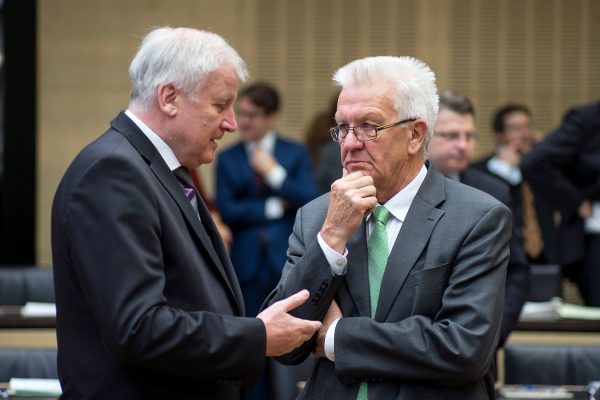 Bavaria's ruling Christian Social Union (CSU) is gearing up for a change in leadership after Horst Seehofer, the state premier, announced his resignation on Monday.
Markus Söder, the state's finance minister, will take Seehofer's place at the head of the Bavarian government.
Seehofer remains party chief for now, at least until coalition talks for a national government are completed.
But it seems only a matter of time before he will have to give up that post as well.
How to bounce back
Politico reports that the battle to lead the party reflects an internal debate about how best to bounce back after a poor score — by CSU standards — of 39 percent support in September's federal election.
Should the party, which groups with Angela Merkel's Christian Democrats nationally, move further to the right, in order to lure back reactionary voters from the Alternative for Germany, or to the center, in order to win back voters from the liberal Free Democrats?
Or not move at all?
The contenders to succeed Seehofer can be divided into these three categories.
To the right
Markus Söder: Media-savvy, socially conservative but a bit of a blowhard. Has strong support in the regional parliament and youth wing but rubs centrists the wrong way.
Alexander Dobrindt: The CSU leader in Berlin. Politico: "The car-industry-friendly transport minister in the last national government, he revels in the role of Greens-basher-in-chief."
To the center
Manfred Weber: Currently leads the center-right in the European Parliament. A move back to Bavarian politics would be unusual, but Weber is widely respected at home and his international experience could be a boon.
Right where we are
Ilse Aigner: Bavaria's economy minister and Seehofer's crown princess. Has strong support at the local level and friends in the national legislature.
Joachim Herrmann: The Bavarian interior minister made a name for himself as something of a hardliner during the refugee crisis, however, he also took issue with Söder's suggestion that migration and terrorism should be treated as one and the same problem. A safe pair of hands, but nobody's first choice.