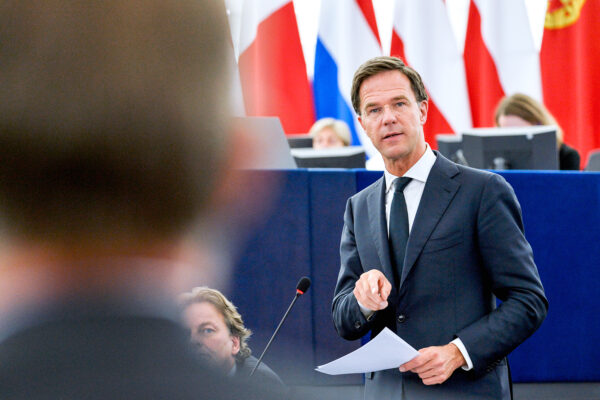 Christian and liberal parties have unveiled a coalition agreement in the Netherlands. Here are the highlights from their program.
Climate and energy
To meet the goals of the Paris climate accord, the parties intend to:
Shut all coal power plants by 2030;
Expand wind farms at sea;
Eliminate the requirement that new homes be connected to natural gas; and
Raise taxes on trucks and pollution.
Natural gas production will be cut by 7 percent.
Defense and security
Add €1.5 billion to annual defense spending.
Continue joint military training and procurement of defense equipment with other European countries.
Add €267 million to police spending and €95 million to cybersecurity.
Allow municipalities to experiment with the legal cultivation of marijuana.
Education
In addition to extra spending on schools, the four parties are planning several reforms in education:
More flexibility for pupils transitioning from primary to secondary education.
Secondary-school students will be able to take classes at different levels.
Requirements for schools established on the basis of a certain philosophy will be relaxed.
Tuition fees for first-year university students will be cut in half.
Students who perform a voluntary public service will have a leg up when applying for government jobs.
Europe
The four parties' European policies close match those of Germany and they explicitly reject some of the proposals French president Emmanuel Macron has made:
No steps toward transfer union.
No fiscal capacity at the EU level to cushion economic shocks.
Tie European subsidies to compliance with EU fiscal rules.
If a eurozone country's debt becomes unsustainable, investors should take the first hit.
Health care
The parties seek to achieve cost savings in health care by:
Reducing government contributions to insurance premiums; and
Making drugs and medical devices less expensive.
Taxes on tobacco will also be raised.
Labor
Judges will be allowed to grant dismissal if employers can partially meet various requirements as opposed to fully meeting only one.
Workers will be eligible for a severance package from the beginning of their contract. Currently they only qualify after two years of employment.
The period during which companies are allowed to hire workers on the basis of short-term contracts will be extended from two years to three.
The period during which small businesses must continue to pay salary to workers who are ill will be shortened from two years to one. The law will remain unchanged for companies with more than 25 employees.
The coalition will introduce a €15-to-€18 hourly minimum wage for freelancers. Those who earn less will be considered salaried workers with full social benefits.
Taxes
The parties seek to achieve €6 billion in tax relief by 2021.
Income tax brackets will be reduced from four to two, giving tax relief to middle- and high incomes.
Sales tax on basic goods will be raised from 6 to 9 percent.
Companies that are based in the Netherlands on paper only will have to pay more tax.
Corporate taxes will be lowered and dividend tax eliminated altogether.
Tax benefits for expats will be reduced.