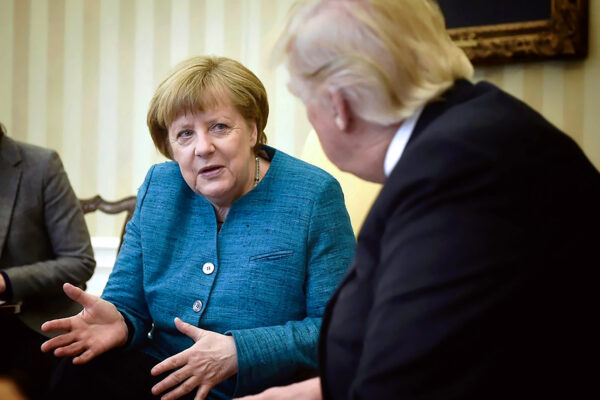 Donald Trump is breathing new life into the European Union whose demise he once predicted.
The American president's disinterest in the Atlantic alliance, and his preference for dealing with strongmen in the Kremlin and the Middle East, is driving France and Germany closer together.
The two have been at the heart of the European project for almost seventy years.
Angela Merkel recently warned Germans they can no longer count on the United States, telling supporters of her conservative party that Europe must take control of its own fate.
Emmanuel Macron, the new French president, has been unambiguous about his wish to see a stronger Europe. His election victory against the anti-EU candidate, Marine Le Pen, was hailed as a reputation of the neoreactionary, alt-right movement Trump represents.
Macron has immediately taken a harder line against Vladimir Putin, chiding the Russian leader for interfering in Western elections.
Trump, by contrast, has yet to say anything negative about the man whose schemes helped him win the presidential election in November.
Broken ranks
Trump's foray into transatlantic relations has convinced most Europeans he can't be trusted.
The American hectored his NATO allies — at the dedication of a 9/11 memorial no less — for failing to meet their 2-percent military spending target but neglected to affirm his commitment to Europe's defense.
He then broke ranks with other G7 leaders in refusing to endorse the club's longstanding opposition to protectionism as well as its commitment to the Paris climate accord.
Trump earlier tried, and failed, to divide the EU by suggesting bilateral trade negotiations when the Europeans have ceded that authority to Brussels.
Canada and Europe will go ahead without him. A massive trade deal between the two is due to come into effect this year. Neither side shares Trump's skepticism about global warming.
European defense
Wolfgang Ischinger, a veteran German diplomat and head of the Munich Security Conference, tells The Economist that Trump's election and Britain's exit from the European Union could prove a turning point in the history of the EU as a security provider:
Britain often blocked the EU from taking steps toward becoming a defense player. Now the EU can begin to plan more creatively. It makes no sense to think about security in German, French, Italian terms. We have to apply the principle of European integration to defense as we applied it to trade decades ago.
I argued here last year that Brexit clears the way for closer military cooperation in Europe. The French are particularly keen on it, because it would allow them to put relations with Germany on a more equal footing.
As Walter Russell Mead put it in The American Interest at the time:
It plays to a French strength and a German weakness — the Germans do not really want much defense responsibility, especially if that came at the price of a lot more defense spending. It opens the door to fiscal relief by the back door — France could reasonably push the case that its burden of defense spending in the common EU interest should give it some more budgetary room — its defense spending, in other words, should at least be partly exempted from eurozone budget rules. And, by supporting the French arms and high-tech industry, the European defense initiative boosts the French economy.
Procurement is in fact where Ischinger advises countries to start. Life-and-death decisions will continue to be made at the national level, he argues. "But enormous gains in efficiency can be made even without an EU army proper."
The Eurofighter, a cooperation between Britain, Germany, Italy and Spain, is the best-known example of this.
Losing out would be the American arms industry. Europeans may end up spending 2 percent of their GDPs on defense, but they won't be spending it on American weapons. Trump's shortsightedness could cost companies like Boeing, Lockheed and Northrop Grumman billions of dollars in the long term.
Relations with Moscow
Ischinger follows conventional German thinking when he blames NATO's expansion and American saber-rattling for Russia's aggression in Eastern Europe. (For counterpoints, read Kirk Bennett here, Theodore Bunzel here or Ryan Bohl here.)
Whoever is to blame, a less engaged America will leave Europe with little choice but to repair relations with Moscow.
It's not that mainstream politicians in Europe are keen on rapprochement. It's that the lack of American resolve makes it harder for them to say "no" to both Russia and its apologists and Versteher in Europe.
And there is the continent's dependence on Russian gas. The EU has stepped up regulatory action against the Russian gas monopoly, Gazprom, and is making serious work of the energy union. But all this has been made easier by the knowledge that America could, and was willing to, export liquified natural gas across the Atlantic. Trump's policy of "America First" introduces doubt.
Friendship
The upside, argues Parag Khanna, is that Europe might resume trade with Russia.
Indeed, he sees opportunities for European businesses in China and Iran as well; countries Trump and his team regard as threats.
(Also read Cornelius Adebahr in International Politics and Society on the possibility of improved relations between Europe and Iran.)
Tellingly, Ischinger applies the same approach to Trump's America as he does to Russia, which is the approach Europe takes in dealing with Iran: "Keep talking, talking, talking."
Like him, Merkel lumped America in with Russia among the foreign powers Europe must have "friendship" with.
Quite a step down from an alliance.