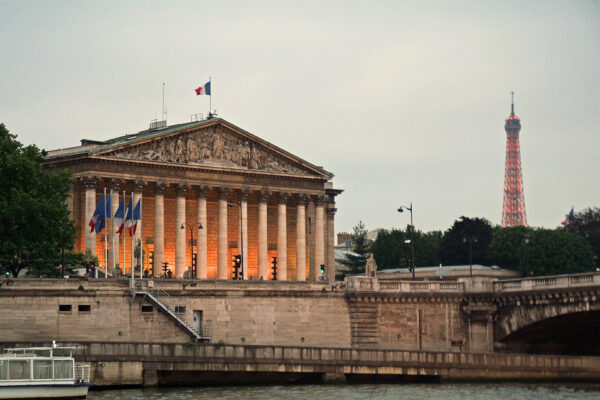 France's new president, Emmanuel Macron, is projected to win a comfortable majority for his centrist party, La République en March, in the legislative elections this weekend and next.
Most polls have En Marche hovering north of 30 percent support for the first voting round on Sunday.
The center-right Republicans are in second place with around 20 percent support, followed by the far-right National Front at 18 percent.
Landslide
Under France's two-round voting system, most En Marche candidates would face off against a single left- or right-wing opponent in the runoff next week.
Ipsos calculates (PDF) that between 385 and 415 of them will prevail, which would give Macron the biggest parliamentary majority for a French president since Charles de Gaulle's landslide in 1968.
289 seats are needed for a majority in the National Assembly.
Most surveys have the combined center-right winning between 100 and 150 seats.
Vote-splitting on the left would prevent the mainstream Socialist Party and Jean-Luc Mélenchon's La France insoumisee from winning more than a few dozen seats between them — completing Macron's takeover of the center-left.
Mixed team
Macron was not expected to win an outright majority only a few weeks ago. He appointed centrists from both major parties to his cabinet in a bid for cross-party support.
Notably, Édouard Philippe and Bruno Le Maire, two liberal-minded Republicans, were named prime minister and economy minister.
Jean-Yves Le Drian, a mainstream Socialist and former defense minister, is now foreign minister.
Macron also formed an alliance with the pro-European Democratic Movement whose leader, François Bayrou, was rewarded with the Justice Ministry.