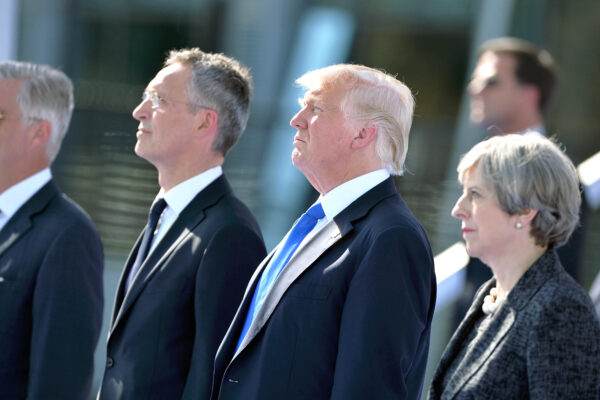 NATO officials had hoped inviting Donald Trump to speak at the dedication of a 9/11 memorial in Brussels would remind of the value of the transatlantic relationship.
The only time the Western alliance's mutual-defense clause was invoked was after the September 11, 2001 terrorist attacks on the United States.
But Trump used the ceremony at NATO headquarters to berate his allies for not paying "what they're supposed to be paying for their defense."
He pointed out that few countries meet the 2-percent spending target they committed to in 2014.
"This is not fair to the people and taxpayers of the United States," said Trump.
Commitment
It isn't. But the American ignored that countries gave themselves until 2024 to meet the target and he mistakes spending as a proxy for commitment.
Take Greece. It spends 2 percent of its gross domestic product on defense and has done so for years. Yet it contributes almost nothing to NATO operations around the world.
Northern and Western European countries, by contrast, like Denmark, France and the Netherlands, spend less than 2 percent on defense, but their ships patrol the Mediterranean and the Gulf of Aden against smugglers and pirates, their warplanes bomb Islamic State targets in Iraq and their soldiers train security forces in Afghanistan — all alongside American counterparts.
It's one thing to fund your military. It's another to use it.
Falsehoods
Trump added insult to injury by claiming the Canadians and Europeans "owe massive amounts of money from past years and not paying in those past years."
This is false. NATO is not a protection racket.
Even now, the 2-percent spending target is not set in stone. Before 2014, it was only a guideline.
Trump seems to be under the impression that America's allies made a promise and broke it. They didn't.
It's bad enough he made these mistakes as a presidential candidate. For him to repeat them as the most powerful leader in NATO is extremely disconcerting.