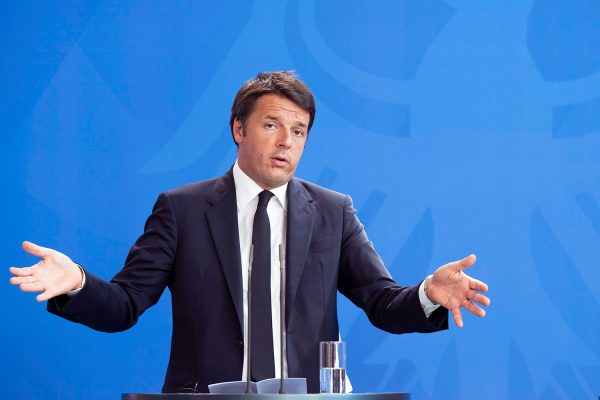 Italy's Matteo Renzi has won a convincing mandate for his center-left agenda, winning over 70 percent support in the Democratic Party's leadership contest.
The former premier, who stepped down in December after losing a referendum on constitutional reform, is believed to be plotting a comeback.
After prevailing in this weekend's primary, he can comfortably brush off criticism that he governed too much from the center.
Renzi campaigned on the same reformist, pro-European platform as Emmanuel Macron in France, going so far as to adopt his slogan, En marche, in Italian: In cammino.
Macron congratulated Renzi in a tweet: "Together let's change Europe with all progressives."
Uniting the left
Renzi's first challenge is uniting progressives in Italy.
Turnout in the Democratic contest was down almost 30 percent from four years ago, suggesting enthusiasm in the party has waned.
Several lawmakers have defected to start their own, more left-wing party. Polls give them only 4 percent support, but that could be just enough to deny the remaining Democrats a victory over the populist Five Star Movement.
Swapping voters
Renzi's left-wing critics accuse him of losing blue-collar and public-sector voters, the Democrats' traditional base.
Which isn't wrong, but they are mistaken to think an ideologically purer program could win those voters back. Low-income Italians, especially in the poor south of the country, have switched to the political right, not the far left — and it looks like that switch is permanent.
If the Democrats do attempt to lure back the working class with an economically more populist program, they risk alienating middle-class supporters, who share Renzi's social liberalism.
It is the Five Star Movement which appeals to young and mostly urban voters. They don't pine for a restoration of the welfare state; they want Italy to finally catch up, economically and socially, with Western Europe.
It are those voters Renzi will try to win back in the next election, which could be held as early as this year.
Reform
Hence Renzi's second challenge: convincing voters who are desperate for reform that he can still deliver.
During his first premiership, the Democrat did make it easier for firms to hire and fire workers. But just like Macron was forced down to abandon reforms in the face of left-wing and trade-union pressure, Renzi saw no choice but to water down his.
Two concessions to the left made his labor reforms less effective: they did not apply to anyone already in work and tax breaks to incentivize hiring under the new contract were phased out after one year. As a result, there was only a negligible impact on employment.
Renzi also failed to lift licensing requirements that make it difficult for young Italians to start out as a lawyer, notary, pharmacist or taxi driver.
Nor did he manage to improve the enforcement of contracts or speed up Italy's court system, two notorious impediments to job growth.
Little wonder Italians are wary of giving him a second chance.