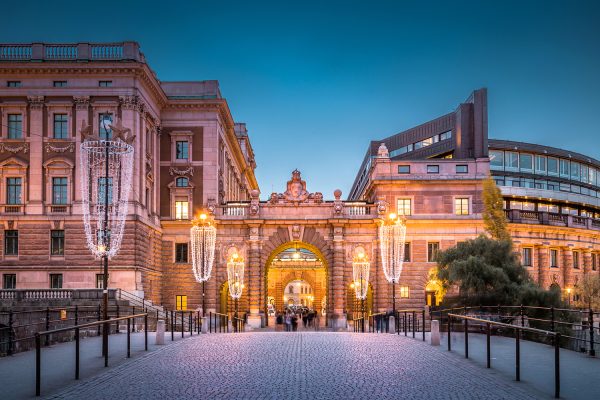 Sweden's Stefan Löfven is taking the fight to the far right. Politico reports that the prime minister and Social Democratic Party leader is implementing a hard line on border control, crime and defense.
With his tough stance, Löfven hopes to avoid the fate of sister parties elsewhere in Europe who have failed to convince voters that they are still relevant now that the welfare states they helped build are well-established.
Polls show the Swedish left down a few points. The nationalist Sweden Democrats have moved up.
Löfven's party would still get nearly 30 percent support on its own and 40 percent in combination with its left-wing allies; a far cry from the dismal performance of center-left parties in France, the Netherlands and the United Kingdom.
But like social democrats elsewhere, Sweden's are losing their traditional, working-class supporters to the far right.
Global forces
Unlike Emmanuel Macron in France and Matteo Renzi in Italy, Löfven, a former welder and metal union boss, is not prepared to accept this.
His proposals — extending stringent border controls, cracking down on organized crime, raising defense spending — are designed to appeal to low-income voters who worry that global changes could leave Sweden poorer and vulnerable.
Macron and Renzi, on the other hand, embrace globalization. They vie for the support of middle incomes with the liberal right and accept that this means surrendering the working class to populist parties like the National Front.
Dutch warning
So far, the Macron and Renzi strategy has had better results. The first is the favorite to win the French presidential election in May. The second got 40 percent of the votes in the most recent European Parliament election.
The experience of the Dutch Labor Party, on the other hand, does not bode well for Löfven's approach.
It too tacked to the right on borders and immigration in an attempt to lure back traditional supporters. The party called for a revision of the free movement of labor in Europe in order to protect native industrial workers and legislated tougher nationalization requirements.
The program failed to impress blue-collar voters, who stuck with the nationalist Freedom Party. But it alienated progressives, who fled to the cosmopolitan liberal Democrats and Greens. Labor sunk to an historic low of 6 percent support in the election last month, down from 25 percent in 2012.