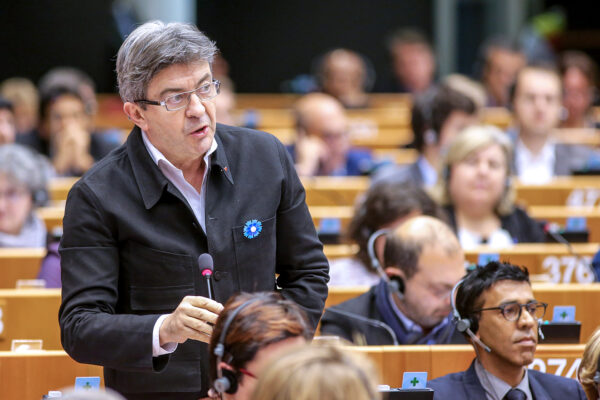 Jean-Luc Mélenchon, France's far-left presidential candidate, has pulled within striking distance of qualifying for the second voting round in May.
Mélenchon shares third place with the center-right Republican candidate, François Fillon, in recent polls.
But whereas Fillon's support has been stable for months, Mélenchon's has surged from a low of 12 percent a few weeks ago to just under 20 percent today.
The centrist Emmanuel Macron and the far-left Marine Le Pen are still in the lead with around 23 percent support each.
Hypotheticals
The two candidates who receive the most votes in the first round this month will proceed to a runoff in May.
There is little doubt Macron would prevail in a second round against Le Pen. The social liberal is broadly acceptable to mainstream voters. The leader of the anti-immigrant and anti-EU National Front would struggle to get 40 percent support.
Few pollsters have yet tested Mélenchon's chances against the two frontrunners. It looks like Macron could beat him with around 60 percent support whereas Mélenchon would win 60 percent support himself in a two-way contest with Le Pen. But that is based on only a handful of surveys.
Disappointed left
Mélenchon owes his good fortunes to the unpopularity of the ruling Socialist Party.
François Hollande, the outgoing president, is not even seeking reelection. During his five years in power, he failed to deliver on his key 2012 election promise: to bring down unemployment. Nearly one in ten French workers are still without a job. Youth unemployment is even higher.
The official Socialist Party candidate, Benoît Hamon, blames Hollande for converting to social democracy in the middle of his tenure. The center-left of the party, which welcomed that about-face, now backs Macron.
Hard-left voters, on the other hand, see little reason to stick with Hamon when he appears to have no chance of qualifying for the second round. They might as well try their luck with the ideologically bolder Mélenchon.
Disruptive
A victory for Mélenchon would be as disruptive to Europe and the West broadly as a victory for Le Pen.
Neither proposes to exit the European Union outright, but neither is satisfied with the status quo. Le Pen wants an in-out referendum; Mélenchon calls for treaty changes in other to make the EU less economy-focused.
Neither is Atlanticist. Le Pen wants to leave NATO's unified command structure; Mélenchon proposes to leave the alliance altogether. Both seek closer relations with Russia.
Mélenchon's economic program is the least business-friendly of the five major candidates'. It includes a lower retirement age, a higher minimum wage, a 100-percent tax on earnings over twenty times the median income and a reversal of the labor reforms enacted by Macron during his two-year stint as economy minister.