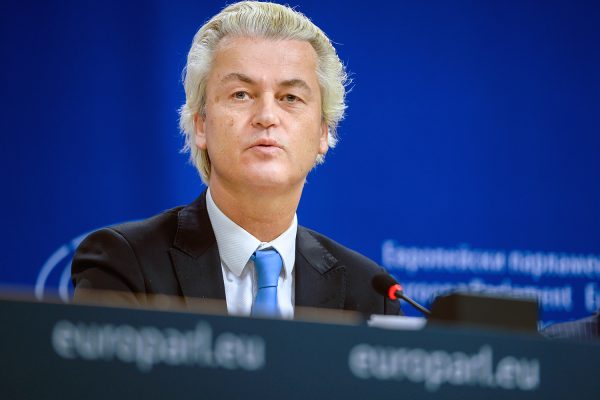 Geert Wilders' strategy of not showing up isn't doing his Freedom Party much good.
Support for the party, which wants to take the Netherlands out of the European Union and stop immigration from Muslim countries, has gone down in the polls from a 21-percent high in December to 16 percent today.
Prime Minister Mark Rutte's liberals are on track to surpass the Freedom Party as the single largest. In some surveys, they already have.
Even if the Freedom Party does place first, it is unlikely to join a coalition government. All other major parties have ruled out an accord.
Invisible
Wilders has skipped all the television and radio debates so far. He is due to make his first debate appearance next Monday, two days before the election.
Nor has Wilders given major interviews to television programs and newspapers. He prefers to communicate with voters by Twitter.
The strategy, inspired by Donald Trump's unconventional presidential campaign in the United States, has been criticized by other party leaders, who accuse Wilders of hiding behind slogans.
Unhinged
There could be another reason for Wilders' fading popularity: He has become unhinged in his anti-Islamism.
The Freedom Party's latest advertisement claims Dutch "civilization" is "at stake" and that Islam is incompatible with Dutch freedoms.
Wilders started out ten years ago by pointing out that few Muslims were assimilating into Dutch society. That view has since become mainstream.
His rhetoric is now more recalcitrant whereas his policies have lost nuance.
Wilders previously wanted to take the Netherlands out of the euro. He now argues for leaving the EU altogether.
He previously argued for a ban on the construction of new mosques. He now wants to shut down even existing mosques.
Wilders previously maintained there was a difference between rejecting Islamic thought and rejecting Muslims, but in the 2014 local elections he outright called for "fewer Moroccans" in the city of The Hague, where his Freedom Party competed. This earned him a guilty verdict for inciting discrimination two years later.
Mimicking populists elsewhere, Wilders subsequently attacked the judiciary, calling his judges "Freedom Party haters".
The increasingly blatant tone and disrespect for the rule of law may be going too far even for some Freedom Party voters.