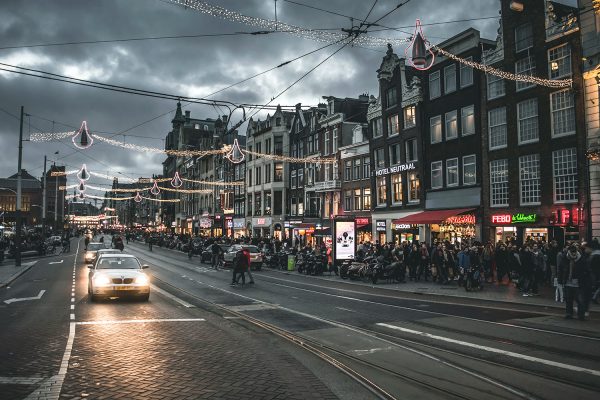 The Dutch election campaign is overshadowed by the rise of nationalist party leader Geert Wilders and his controversial views on the European Union and Islam.
But don't overlook what could be one of the stickiest point in coalition talks after the election in March: the liberalization of the labor market.
Prime Minister Mark Rutte's liberals, on the right, and the liberal Democrats, in the center, are both likely to be part of the next government. Both want to free up the labor market, but polls suggest that many of their voters agree with the left that liberalization has already gone too far.
Compromise
Wilders and his Freedom Party are unlikely to join the next government, even if they place first. All the other major parties have ruled out collaborating with the nativist right.
That means Rutte could remain prime minister at the head of a coalition of four or five parties in the center.
His own liberals are campaigning to reverse some of the labor reforms that were enacted by the outgoing parliament.
In a typical left-right compromise, the pro-business liberals agreed with the pro-worker Labor Party to simultaneously cut unemployment benefits and introduce new rules for contractors. Employers can only hire contractors for up to two years anymore before they must hire them on a permanent basis and they will in the future be required to use one of several pre-approved types of contract.
The second change has been postponed, because it proved too disruptive in the short term.
The liberals want to eliminate it altogether. They say it's too inflexible and causing contractors to miss out on business opportunities.
Labor and the other left-wing parties want to go in the opposite direction. Their fear is that employers abuse the contracting system to underpay their workers, particularly in health care.
They also want to make unemployment insurance mandatory for freelancers.
Employers and interest groups for the self-employed are alarmed, but it appears the left has the electorate on its side.
Gone too far
A Peil.nl survey found (PDF) that 71 percent of Dutch voters agree that the liberalization of the labor market has gone too far.
The only voters who are evenly split on the issue are liberals. Half of them see no point in reversing temp jobs and zero-hours contracts.
Many liberal voters are businessowners. The poll suggests that Rutte's policy is broadly in line with the preferences of his base.
That's not the case for the liberal Democrats. Only 28 percent of their voters toe the party line.
Add to that the likelihood that at least one left-wing party will be needed to form a government after the election and it doesn't look like liberalization of the labor market will be on the agenda.